April 01, 2007
CCA Advertising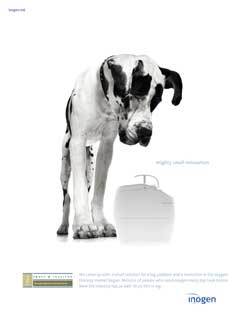 CCA Advertising
450 W. 15th Street, 6th Floor,
New York, NY 10011
Phone: 212-845-5651 · Fax:212-845-5698
Email: joe@ccad.com · Web: www.ccaad.com
Founded: 1999
Parent company: Chandler Chicco Agency, New York, N.Y. Officers: Principals: Robert Chandler, Gianfranco Chicco; Joe Carofano, general manager; Mike Devlin, creative director; Kim Rostovskis, director, account services. U.S. billings breakdown by media/source: Medium 2005 2004 Journals 35.0% 45.0% Alternative Media 20.0% 10.0% Conventions/ exhibits 15.0% 10.0% Direct marketing 5.0% 0.0% Sales Materials 15.0% 10.0% Consumer Media 15.0% 20.0% Healthcare accounts: Olympus Healthcare: AOR for all professional communications for all three major healthcare business units — microscope, endoscope and general chemistry bold analyzers; Novo Nordisk: corporate communications and disease awareness efforts; EMD: AOR for all professional advertising for the launch of their product Cyanokit; Inogen: AOR for all professional, patient and provider advertising for their oxygen concentrator Inogen One; Gilead: corporate advertising; Immtech: AOR for all professional advertising and communications for the launch of their drug Pafuramidine for the treatment of PCP in HIV/AIDS and malaria; CIMA LABS: corporate advertising; Allergan: Prevage MD (patient e-marketing campaign); Relsys: corporate advertising and collateral for proprietary drug safety software. Accounts gained (6): EMD, Inogen, Immtech, Allergan, CIMA LABS, Relsys. Accounts lost (1): Novo Nordisk: global corporate campaign (client elected to execute campaign concept locally in Copenhagen for logistical reasons). Services: Documentary film for Pfizer's Florida: A Healthy State program finished filming; 2006 completion; Diabetes Aware PSA for Novo Nordisk featuring Kevin Kline and Jon Lovitz generates massive response: 3,670 airings, 32.3 million impressions and counting. Divisions: 'nition design and new media.
Scroll down to see the next article