July 05, 2016
Centron


In 2005 Centron opened its doors when two industry veterans took a long work relationship to the next level. Fast-forward 10 years and the then-fledgling shop has evolved into a full-fledged agency, esteemed by clients and peers alike.
Led by president and CEO Marcia McLaughlin and cofounder Michael Metelenis, the agency is ready for its next evolution. As Metelenis marches toward full retirement, a new leadership team has been put in place at Centron, one McLaughlin believes sets the agency up for the next 10 years. Jennifer Samuels and Gary Stamps head up advertising, Shannyn Smith reigns over medical education, Erinn White oversees PR, Scott Baxter has assumed control of market access, and Madeleine Gold is guiding a new strategic-planning unit. In a move designed to streamline operations, parent company HealthStar Communications unified Centron and its newly aligned core disciplines under one brand.
Restructuring the organization and adding key players took patience. "Managing growth and change is always a challenge," says McLaughlin. "But bringing in new ideas and peo­ple also refreshes the approach."
Revenue increased by $1 million to $24 million in 2015, while headcount jumped from 85 to 101. McLaughlin says the agency's recent success "validates the idea we had to launch this company has been the right one. We're on a major growth curve and we continue to have fun doing it."
Putting its expertise in oncology to work, Centron was named AOR for Ipsen's gastroenteropancreatic neuroendocrine tumor drug Somatuline, a charge that includes advertising, PR, and med ed. Centron launched IBSchek, an IBS blood test developed by Commonwealth Laboratories and acquired by Valeant, Allergan's Liletta (a new IUD), and DBV Technologies' Viaskin Peanut (an immunotherapy for peanut allergies). It partnered with Celgene, Ariad, and Daiichi Sankyo on advertising and medical education projects.
On the organic growth front, Centron was named full-service AOR for Ipsen's Dysport (for spasticity disorders) and awarded global marketing and medical affairs responsibilities for Bayer's prostate-cancer drug Xofigo. The agency pitched Bristol-Myers Squibb for the first time, emerging as AOR for advertising and medical education for Nulojix, a treatment for transplant patients.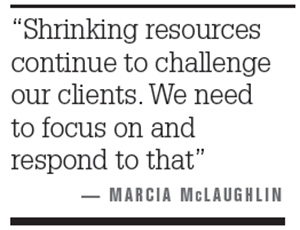 Resource allocation, McLaughlin says, tends to lead to sleepless nights on the client side. In response, Centron's new multichannel marketing department is tasked with maximizing the use of every channel, reviewing where clients spend their money, and attempting to ensure that resources are allocated smartly.
"Shrinking resources and industry consolidation continue to challenge our clients and where they make investments," she says. "We need to focus on and respond to that."
Case in point? The now-defunct Pfizer–Allergan deal. During the months before the deal fell apart, Centron helped Allergan's Liletta team. "It's the agency's responsibility to keep a project on point," McLaughlin says. "Our job is to support the brand's stance in the market. That role is more important than ever during a merger or acquisition."
Scroll down to see the next article