March 22, 2012
Guide to Interactive Companies
Quadrant HealthCom Inc.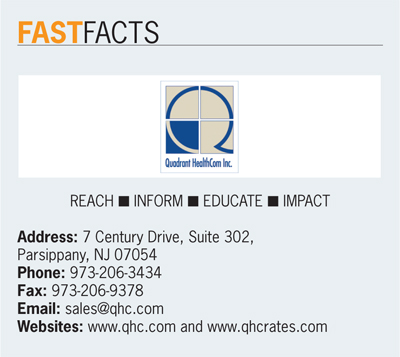 Company Profile
Quadrant HealthCom Inc. is a leading multimedia medical communications company built on a solid foundation of brands. Its 13 regularly issued medical journals, 24 Web sites, meetings management division and custom content and programs reach more than 700,000 physicians, allied healthcare professionals, and their patients, in the U.S. We create exceptional opportunities for comprehensive educational programs bringing together content, clinicians, thought leaders, and patients. We provide a robust platform of print and digital offerings across our portfolio in person, print, online, and on demand.
Core Capabilities
• Creative solutions that facilitate engaging programs quickly, efficiently, and cost-effectively
• Development of original, clinical, peer-­reviewed medical education in multiple formats including live events and enduring materials
• Resources for clinicians to implement learning through counseling tools and patient education
• Luminary physician editors-in-chief and faculty editorial boards of our proven brands, guide development and provide a peer-review process to ensure fair and balanced content, medical accuracy, and relevancy to audience.
Integrated Communication Channels
Numerous advertising programs are available from any one of QHI's brands for multi- or single-sponsorship. Surround your ad with our content—indexed, peer-reviewed, and/or news-oriented—or have us distribute your content, and you will reach an engaged audience. Incorporate various multimedia formats including webcasts, videos, audiocasts/podcasts, mobile apps, custom microsites, content specific eNewsletters, digital editions, and more. Leverage the credibility we have built among our readers, who are eager to receive relevant information from brands they trust.
Services and Offerings
• Among the top 10 medical publishers, covering 15 markets reaching over 700,000 thought leaders, physicians, allied health care professionals, patients and health conscious consumers
• Multimedia communications through print, live and on demand platforms
• Access to 700,000 clinicians and patients via our email database
• Proficiency in original (multilingual) content development, graphic design, audio visual technology, new media and project management with expertise in the MLR process
• Proficiency in meeting planning, audience ­generation, facilitating events, including custom print and online products designed to extend your message before, during and after an event
• Strategic thinkers with broad experience from various sides of the pharmaceutical industry