March 22, 2012
Guide to Interactive Companies
Rosetta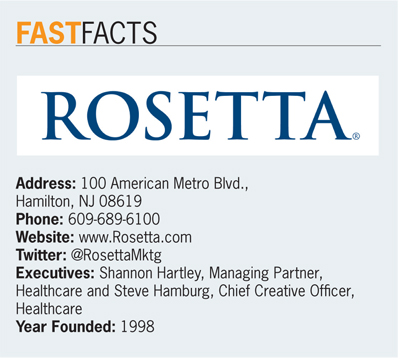 Company Profile
At Rosetta, we connect to what matters. We build brands using our deep vertical knowledge in both healthcare and as a leading interactive agency. Our unique team and integrated structure allow us to address clients most critical business issues and deliver greater impact.
Our differentiated approach is founded on:
• Generating deep consumer, brand and category insight to heighten message relevance and personalization
• Creative capabilities to connect brands to audi­ences via meaningful and memorable experiences
• Our deep technical expertise across platforms and connected devices to maximize interactivity across all channels
Services and Offerings
Rosetta is engineered specifically to build personalized marketing experiences and solutions. As an interactive agency with deep roots in the healthcare industry, we are able to deliver better health and business outcomes, driving customer engagement though our integrated approach to multichannel marketing.
Through our insight-driven research process we define the underlying drivers of customer demand and engagement in order to address critical business issues; identify new business opportunities and build deeper connections. The consumer insights are then translated into personally relevant content and experiences that are delivered, measured, and optimized across technology platforms and connected devices.
Our services include:
• Salesforce Enablement Tools/Connected Devices
• Insights and Segmentation
• New Brand Launches
• Relationship Marketing
• HCP and Consumer Marketing
• Search Marketing/SEO
2011 Highlights
Rosetta was acquired by Publicis Groupe and will continue to operate as an independent brand within the Publicis Groupe of global agencies.
Rosetta was ranked by Ad Age among the top U.S. digital agencies and was recently named the #1 Agency to Watch in Ad Age's Agency A-List.
Business Development Contact
For new business inquiries please contact ­Shannon Hartley, Managing Partner at: Shannon.Hartley@rosetta.com