March 22, 2012
Guide to Interactive Companies
WorldOne Interactive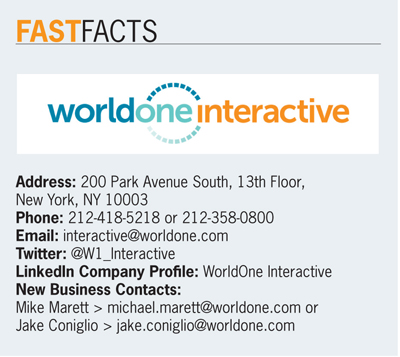 Company Profile
WorldOne Interactive is bringing innovative engagement technologies, global scale, and powerful intelligence to digital healthcare marketing.

Global Scale > Social Collaboration > Targeted Engagement
Proprietary platforms and cutting edge curated social channels empower healthcare brands to communicate with our growing Global Networked Community comprising over 1.6 million healthcare professionals spanning 80 countries, including more than 300,000 verified US physicians and 1 million US healthcare professionals.

Worldwide Access > Crowd-Sourced Knowledge > Real-Time Data
As a division of WorldOne, Inc., the global leader in healthcare data collection, we leverage 11 years of experience and analytical firepower to deliver real-time insights and an inventory of understanding to client campaigns. Our communication solutions drive targeted, iterative engagement by creating immersive educational forums for healthcare professionals.

Data Driven Innovation > Competitive ­Education > Repeat Engagement
At WorldOne Interactive, we use our own products to substantiate opportunity and support ­development of unique engagement solutions; we 'eat our own dogfood!'

For instance, we used MedLIVE™ to learn that:
• 82% of global MDs are interested in competing with domestic and international peers in online gaming environments as a way to uncover healthcare news and learn about healthcare trends
• 84% think that forecasting future events would be a particularly valuable source of learning
• 82% place high value on the opinions of MDs that their colleagues trust (friends of friends)
• 80% find anonymously posted content to be highly unreliable

MedLIVE™ (MedLIVE.com) is the fastest and most cost-effective HCP market-intelligence platform, which healthcare brands and agencies utilize to glean real-time insights from our Global Networked Community; MedLIVE™ delivers FastResponses to brand's questions within hours.
Services and Offerings
Our suite of differentiating engagement services and tactical programs can be applied locally or globally to increase the reach, engagement ­activity, and peer influence of customer segments across categories. To learn more about how our unique approach, customized services, and proprietary tools can add value to your HCP engagement strategies—get in touch!

Introducing:
• MedLIVE™ Real Insights > Real Fast
• MedNOW™ Point of Learning Messaging
• MedTHRED™ Social Signaling
• DocTANGO™ Makes Brand Science a Sport