March 22, 2012
Guide to Interactive Companies
The CementBloc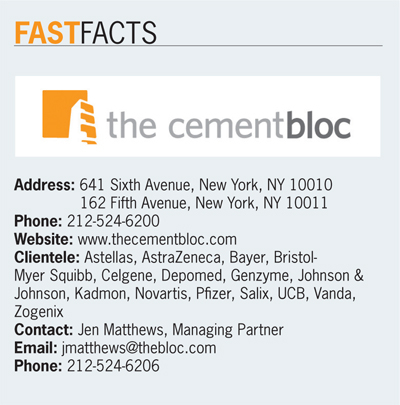 Company Profile
The CementBloc is leading a fundamental transformation of the healthcare agency model, grounded in the belief that a converged approach that incorporates digital and off-line platforms is the only way to reach a fragmented marketplace.
The strength of our approach lies in the ability to connect the customer with the brand across all phases of the life cycle to build multichannel customer touchpoints. We bring to bear our deep expertise in key areas of Web, mobile, social, and relationship marketing to develop content and affinity-based plans that drive engagement and sales. We have done so through the development of communications that target the unique needs of all core customer segments: healthcare provider, patient, consumer, and payer.
The CementBloc is the second-largest independent healthcare creative agency in the United States as well as the founding partner of ­Indigenus, an international network of award-winning, independent healthcare agencies.
Services and Offerings
Our service offerings include a broad range of brand needs from core strategic brand planning to channel strategy and management, closed-loop platform development, and multichannel creative execution.
Our digital services comprise 3 areas of specialization:

eContent
• Web sites
• Microsites
• Tablet PC and iPad details
• Podcasts
• Webcasts
• Email blasts
• Games and apps

eCommunication
• SEO
• SEM
• Display/Rich Media
• Mobile Applications
• ePR

eSystems
• Closed-loop Professional Platforms
• eCRM
• Social Media Platforms
• eCommerce Platforms
Accelerated Impact and Recognition
Our dedication to provide quality work that is innovative and customer-centric has led to expansion of our client opportunities as well as industry recognition. This past year several more of our key clients (UCB and Bayer, to name two) embraced the move to digital selling and launched iPad selling programs complete with novel data-sharing applications and comprehensive back-end infrastructure to empower timely program optimization.
We also won a number of creative awards in 2011, many specifically within the interactive arena. Notable among the accolades were 8 separate awards for the Share the Little Things interactive campaign (Celgene), which included Best Interactive Initiative for Consumers (MM+M), Website Excellence (OMMA Awards), and 3 separate Finalist Certificates from The Global Awards. In addition, we are tremendously proud of the recognition we received at the Manny Awards as Agency of the Year Category II.