March 22, 2012
Guide to Interactive Companies
Flashpoint Medica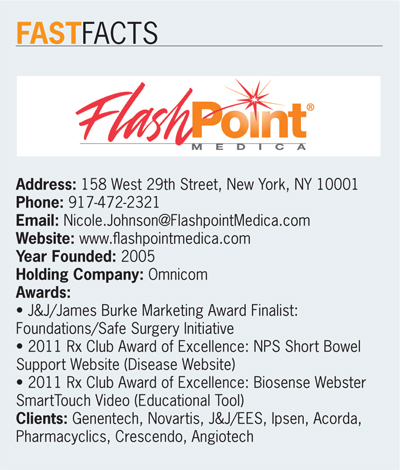 Company Profile
Flashpoint Medica is a full-service multichannel agency dedicated to building healthcare brands, with exceptional capabilities in key specialty markets. Our internal DNA is fueled with the brightest talent across strategic, medical, account, digital, and creative disciplines—all sparked with the desire to collaborate and apply our insights and expertise to your business.
Clients continuously remark on Flashpoint's rigorous investigative approach, ability to package science effectively, and capacity to communicate a brand's promise in unique and memorable ways.
Our process begins with assessing your target audience. We tap into what customers are saying about your brand and use our customer engagement model to deliver results that increase your bottom line.
We integrate and deploy the right mix of proven tactics to capture attention across multiple channels. From high-performance websites, mobile-optimized websites, and iPad experiences to compelling rich media, interactive games, and mobile applications, our team creates experiences that engage audiences and drive results.
We evaluate results against clear success measures and scrutinize every aspect of each campaign, looking for ways to improve performance. We challenge ourselves—and you—to constantly refine our work.
Philosophy on Digital
Flashpoint's philosophy on digital is that, in order to succeed in today's marketplace, we believe all team members need to be able to understand and apply eMarketing fundamentals. We also employ a team of eMarketing specialists, including digital strategists, community managers, information architects, user experience designers, creative technologists, and digital project managers because we're committed to evolving our business to support yours.
Interactive Services and Offerings
eMarketing Fundamentals
• Search and Display
• Email Marketing
• Websites, Mobile Websites
• Social Media Listening
• Measurement and Analytics

Digital Strategic Services
• Customer Segmentation and CRM
• Channel Planning
• Social Media Community Management
• Digital Training

Specialty, Research and Development
• iPad Core Visual Aid Development and Engagement Expertise
• Usability Testing
• Emerging Display Platforms
• Behavior Modification Health Gaming
New Thinking for 2012
Flashpoint is committed to digital training and will offer clients a 6-session thought leadership training package that includes: (1) eMarketing Fundamentals, (2) Regulatory Success Across Digital Tactics, (3) Implementing Social Media Policies for Engagement, (4) iPad Excellence, (5) Creating User Experiences that Drive Action, and (6) Measurement that Matters.