March 22, 2012
Guide to Interactive Companies
Greater Than One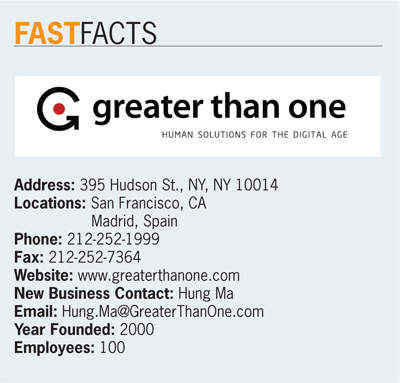 Company Profile
Founded in 2000 GTO remains the leader in ­digital healthcare, delivering integrated solutions that are unparalleled in their award-winning value and impact. Headquartered in New York City, we are an independent, fully integrated global agency offering technology enabled digital solutions.
Industry Recognition
Honored for our work in strategy, media, search, creative and site, mobile and app development – in the past four years alone, GTO has received over 100 awards, including some of the industry's most prestigious honors.
Services and Offerings
HCP and Patient Marketing
Spanning the entire drug lifecycle—from pre‑launch to mature brand—we help our clients reach out across the various touchpoints in the healthcare continuum, engaging physicians and patients alike.

Direct-to-Patient
Our patient healthcare practice is founded upon our unique blend of creativity, innovation, and strict adherence to regulatory policy. And our ­success is built upon our understanding of the patient as a human being, at each stage of their journey.

Physician Marketing
Drawing upon our extensive experience across the web, social, and mobile arenas, GTO works with clients to develop best-in-class HCP campaigns and programs. We reach physicians through an array of digital channels and resources, helping them improve patient relationships, outcomes and clinical efficiencies.

Sales Force Strategy and Support
Leveraging mobile, iPad and tablet PC tech­nologies, our digital solutions support the modern sales force. Applying comprehensive back-end analytics, we help to ensure and measure sales force efficiencies.

Expertise
• Branding and Strategy
• Insights and Analytics
• Web Destinations and Portals
• Digital Media and Search
• Interactive Gaming
• Social Media and Reputation Marketing
• Mobile Communications, Marketing Apps
• Video and 3D Imaging, Digital Outdoor
• Enterprise Architecture
• Web Application Development
• Web Services
• Rich Internet Applications
• Content Management