March 22, 2012
Guide to Interactive Companies
Ignite Health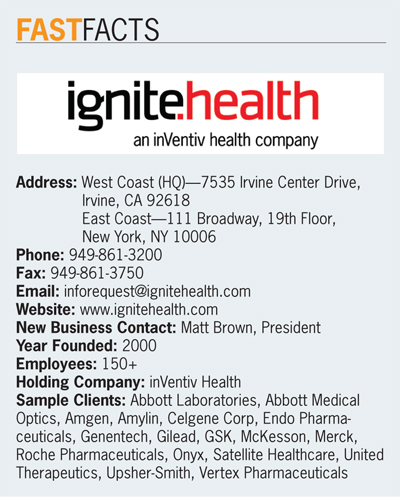 Company Profile
Ignite Health is a full-service, brand-building ­agency with a digital core. Ignite Heath was founded in 2000, and in 2007 became part of inVentiv Health. With offices in Irvine, CA and New York City, and over 150 employees, Ignite Health has the scale and scope to deliver a full range of ­promotional solutions in the health and wellness market. Ignite Health ranks among the top 20 healthcare agencies and was a finalist in 2011 for Med Ad News' Agency of the Year. We offer clients a broad range of fundamental practices and digital excellence to create unstoppable
­momentum for brand success across the ­continuum of a brand's life cycle.
Services and Offerings
Unlike other advertising agencies, Ignite Health has an embedded, best-in-class healthcare branding practice focusing on insight planning, positioning, brand strategy development, scientific branding, and branding hallmark design.
As an award-winning digital healthcare pioneer, Ignite Health has achieved multiple firsts in the digital space. We are differentiated by our digital leadership, innovation, social media expertise, strategic insight, client and employee retention, and unmatched partnering capabilities. From the development of micro-targeted multi-channel executions to the creation of virtual HCP/patient engagements, interactive games, and disease specific social networks, Ignite Health delivers healthcare communications expertise through the latest Web 2.0 technologies.
Ignite Health has many unique services and ­offerings, including:
• Digital Strategy
• Branding The Science & Clinical Strategy
• Social Media
• Brand Analytics
• Health Gaming
• Brand Development
• Online & Offline Promotion
• Web Development
• Customer Insights
• Mobile Planning
Case Study: Vertex Pharmaceuticals
The launch of INCIVEK® (telaprevir), Vertex Pharmaceuticals' first commercialized brand for Hepatitis C, has surpassed all expectations and is on course to become one of the most successful launches in pharma history. Pre-launch, Ignite Health focused on disease awareness, patient support/relationship management, customer engagement analysis and development of social media. In on-going brand-building, Ignite Health conceived and executed campaign development for unbranded disease education, product promotion and corporate promotion. Despite having similar efficacy/safety data and despite being significantly outspent, INCIVEK® has captured more than 85% of the scripts when compared to Merck's VictrelisTM.