July 05, 2016
HCB Health/Austin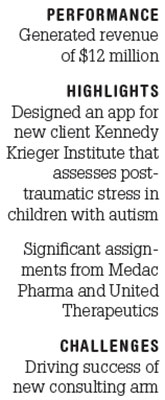 When Austin-based HCB Health acquired Chicago firm Topin & Associates last year, it gained a foothold in the Midwest and access to would-be clients in the region. In its wake, HCB Health enjoyed a banner year, reporting combined revenue of $12 million.
The agency, celebrating its 15th year, claimed significant assignments from Medac Pharma and United Therapeutics, both of which arrived at HCB from larger companies. "They were seeking more strategic thinking and personal attention," says Kerry Hilton, partner and CEO.
Other new client wins in 2015 included a PV market development assignment from Medtronic and a global rebranding initiative from Galderma. Among existing clients, HCB picked up additional work from Stryker and Alcon, its largest client. For Alcon, HCB took part in the global launch of UltraSert, a hands-free intraocular lens inserter. The agency helped launch trifocal intraocular lens AcrySof IQ PanOptix in Europe and Asia (the product is not yet available in the U.S.).
According to HCB partner and CMO Nancy Beesley, clients gravitate to the agency owing to the strength and depth of its people. "When they come to us, they get the A team," she notes.
The Topin acquisition bulked up HCB's recruiting power. "One of the things we struggled with was getting people to Austin," says Beesley. "That paradigm has really shifted for us. We're getting a lot of transplants who are ready to make the shift, and we're having to say no." New hires include Amy Hansen, SVP and creative director, from CDM Princeton; Greg Niemczyk, VP and account director of business development, from GSW; Nick Rambke, VP and account director, from AbelsonTaylor; and James Hamilton, associate creative director, from LehmanMillet.
Hilton, who says about 45% of HCB's work is now digital, touts work done for new client Kennedy Krieger Institute, an app that assesses post-traumatic stress in children with autism. But HCB's influence in that realm will likely extend beyond apps and websites. "It's going to be more consulting with companies on what their digital programs look like," says Hilton.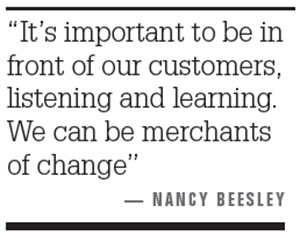 That's one of the reasons HCB is so involved in the annual South by Southwest festival. "There's a lot happening now in technology and in the world," Beesley explains. "It's important to be in front of our customers — listening, learning, and sharing experiences. We can be merchants of change if we allow ourselves to be."
With that positioning in mind, the agency opened HCB Consulting, a division that provides coaching and consulting sessions for healthcare executives. "I've worked with C-level people at pharma and medical device companies on becoming better and more functional leaders," says Beesley. "Most leaders get to a point in their career where they have difficulty getting honest feedback. They need someone who they're not working with to give them good, productive, actionable input."
HCB Health is also wrapping up its own rebranding efforts with the launch of a new logo and tagline. "Now that we are in new markets, we really needed a makeover," Hilton says.
Scroll down to see the next article