Conference Agenda (Subject to change)





8:00am

-

9:00am




Registration/Breakfast

9:10am

-

9:15am




Can Pharma adopt a hacker mentality?

Speaker:

Marc Iskowitz, Editor in Chief, MM&M

9:15am

-

9:55am




Rapid innovation and Big Pharma: Not an oxymoron

Speaker:

Michele Polz, Head of Patient Insights, Global Commercial Strategy, Biogen

9:55am

-

10:15am




Session: Inspiring the Future 40


Moderator:

Matt Brown, CEO, Guidemark Health




Panelists:



Shwen Gwee, Associate Director, (Global) Digital Customer Engagement, Biogen


Melissa Mackey, Head, Social Media CoE, U.S. Digital Medicines, Novartis




Amanda Sheldon, Director, Digital Marketing and Communications, Medtronic Diabetes




Sponsored by:

10:15am

-

10:35am




Beyond the Pill: The Product is a Commodity, The Experience is Your Differentiator

Speaker:

Drew Miller, Creative Director, frog design

10:35am

-

10:55am




Navigating Pharma internal: Setting up a framework for risk to occur and failure to happen

Speaker:

Ingo Elfering, CIO, Indivior (formerly Reckitt Benckiser Pharma)

10:55am

-

11:10am




Coffee Break

11:10am

-

11:40am




"Intelligent Connections' Discussion: Bridging the chasm between healthcare startups and pharma marketers

Panelists

:


Michael Coffey, Marketing Manager of Strategy and Innovation, North America, Roche




Charles "Chuck" Gershman, Founder, President and COO, Kuveda, Inc.





Vanessa Rath Menton, Assistant Director of Oncology Marketing, Astellas Pharmaceuticals




Brandon Seeyle, Marketing Product Manager, Medivation




Amanda Sheldon, Director, Digital Marketing and Communications, Medtronic Diabetes




David Weingard, CEO, Fit4D

11:40am

-

12:00pm




Consumer expectations in a regulated market: The wearable experience

Speaker:

Nirav "Rav" Sheth, Director of Market Development, Medical, MC10

12:00pm

-

12:50pm




Session: The patient view on transformation: empathy, education and empowerment

Speakers:


MarlaJan DeFusco BSN, RN, CPN, Lupus Health Activist, & Author, Luck Fupus Blog




Jill McNair, Director of Education, Outreach and Community Support, CISCRP




Dr. Navarra Rodriguez, Chief Medical Informatics Officer, AdvantageCare Physicians




Lita Sands, Former Global Head, Digital Transformation, Novartis




Sponsored by:

12:50pm

-

1:40pm




Lunch

1:40pm

-

2:25pm




Battle of the Big Ideas: "Big Ideas for the Next 10 Years"

Presenters:

Ayman Chit, Senior Director, Sanofi Pasteur




Andy DiSimone, Director of Digital, StartUp Health




Peter Frishauf, Director, Context Matters Inc., Founder, and past CEO & Chairman, Medscape





Paul Magill, Senior Advisor, McKinsey & Company




Melissa Manice, CEO and Co-founder, CoheroHealth




Joe Shields, Global Director, Digital Strategy, AstraZeneca Pharmaceuticals

Sponsored by:

2:25pm

-

2:45pm




Precision Medicine: Beyond the President's State of the Union




Speaker:

Dan Renick, Co-President and CCO, Precision for Medicine




Sponsored by:

2:45pm

-

3:05pm




Panel: Inter-generational executive summit: CEOs, Partners and Leaders of established and new health-tech firms compare notes




Panelists:

Melissa Manice, CEO and Co-founder, CoheroHealth




Meg Columbia Walsh, 2014 Luminary at HBA (Healthcare Business Women's Association); Partner, Global Lead of Digital Innovation and Marketing Excellence, Ernst & Young




Josh Stein, CEO & Co-founder, AdhereTech




Benjamin Wolin, CEO & Co-founder, Everyday Health

3:05pm

-

3:25pm




What is a business model and how do you sell it?

Speakers:

Tom Kottler, CEO and Co-Founder, HealthPrize Technologies




Jack Barrett, CEO, WEGO Health




Larry Brooks, Director, Business Innovation: Digital Health, Boehringer Ingelheim

3:25pm

-

3:40pm

Afternoon Break

3:40pm

-

4:20pm




Brainstorm Sessions

Session 1:

Are we cut out to be healthcare service providers?

Sponsored by:

Session 2:

Where do wearables fit into Pharma's overall business strategy?

Session 3: Is adherence a driver of value?


Sponsored by:






4:20pm

-

4:45pm

Brainstorm Recap Session

4:45pm

-

5:20pm

Pharma's Digital Disconnect: What's Slowing Marketing Innovation and How Organizations can Push Forward

Speaker:

Monique Levy, Vice President, Research, Manhattan Research

5:20pm

-

5:30pm

Closing Remarks

5:30pm

-

6:30pm

Transforming Healthcare Cocktail Reception

Sponsored by: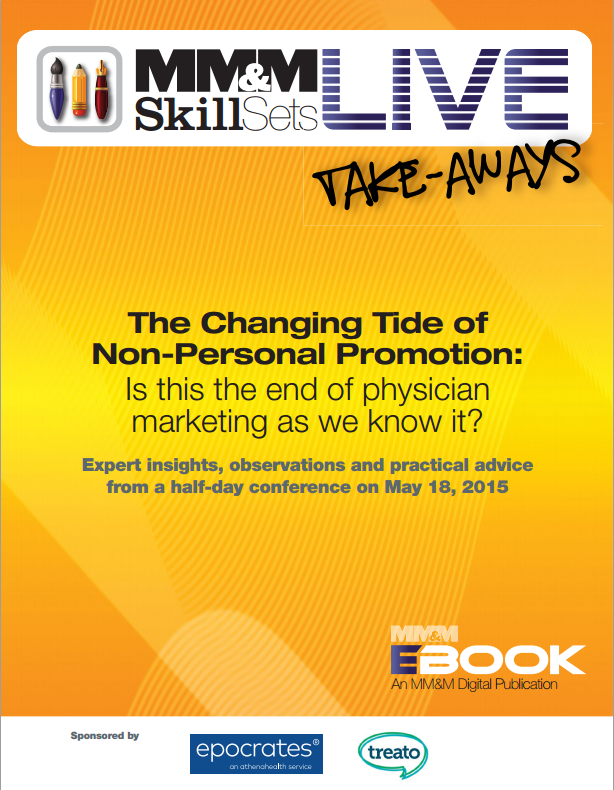 The most recent MM&M Skill Sets Live event, "The Changing Tide of Non-Personal Promotion," surveyed a range of issues relating to one of the hottest promotional spaces within healthcare marketing. Speakers and panelists at the morning-long session, including promotional- and multichannel-minded executives from GlaxoSmithKline, Epocrates, Treato and Montefiore Medical Center, weighed in on topics designed to help marketers demystify the challenges associated with non-personal promotion. Click here.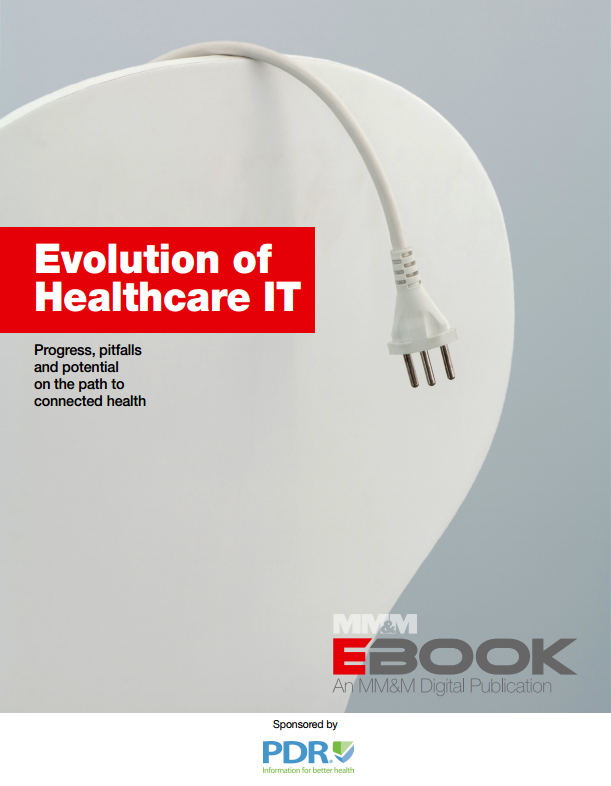 Investment in healthcare IT stands at an all-time high. The government has spent billions to promote EHR adoption. Yet the physician wish list is a mile long, while hospitals and patients are not where they need to be. To peel back the layers of what we've all been waiting for in the Great Data Capture of the 21st Century, and to review the changes enabling the healthcare data ecosystem to coexist, MM&M presents this e-Book. Click here.
Check out what's trending