June 01, 2015
At Work With . . . Susan Dorfman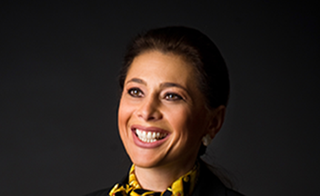 Q: What was your biggest break?
After graduation I was very interested in pursuing a career in advertising as a copywriter. However, to get a job in advertising back then you had to take a typing test, which, sadly, I failed. So instead of launching my career in advertising (trafficking), I got my break working for the IEEE as a technical writer. The chief information officer, who had deep connections to media and was with Viacom prior to joining us, mentored me and introduced me to many people in the industry— with one connection being a big-time recruiter for an Internet company launching the first ever webzine (virtual magazine) called Word. I came on board in charge of technical communications and ultimately global marketing and never looked back.
Q: What's the best and/or worst part of your job?
The best part of my job is having access to one-of-a-kind promotional reach and affinity data and utilizing it to help our clients reach their brand goals. I also love working with an amazing group of innovators who are never satisfied with the status quo and are spending their days experimenting with ways that would enable our clients to remain in the forefront of continuous change.
I am very directionally challenged as all my clients and team members know, so I have to say that the worst part of my job is the drive to and from my office locations and clients.
Q: Who is the person whom you most admire in your area of work?
My CEO, Stan Woodland. He is a remarkable leader with a keen sense of listening and an unmatched respect for everyone he comes across. He is the person I most admire and want to emulate. He is also someone who understands the process of innovation and the investments behind being number one. He's never afraid to take on challenges and risks for the sake of delivering excellence to the clients his agency supports.
Q: What's the view like from your office or work area?
My computer, iPhone or the person sitting opposite me in the office. I split my time between our NYC and NJ offices and tend to spend a lot of time with clients—which also means being in the car or on airplanes—so my view changes often.
Q: How long is a typical meeting with clients?
Anywhere from a half hour to full-day sessions. Typical meetings run about an hour and a half and they fly! We are blessed to have developed amazing relationships with the teams we work with and greatly enjoy spending time with them in supporting and anticipating their needs and opportunities.
Q: What was your greatest professional challenge?
Staying within a 9-to-5 schedule. I have a passion for what I do and for me there is no hard line for work and after work.
Q: Where will you be in five years?
Growing with CMI/Compas and continuing to deliver our clients' growth through the use of audience intelligence, media/NPP and technology.
Q: What are your favorite industry-related websites? Non-industry?
I am an information junkie and love all things healthcare and media. Some of my favorites include Physician's Money Digest, MediaPost, AHIP, MedPage Today, the various Fierce sites, Modern Healthcare and of course MM&M. Occasionally I enjoy reading Café Pharma as well! For non-industry you can catch me on LinkedIn or Google every day.
Q: If you were to write a book, what would its title be?
I actually have written a book recently, Electronic Health Records: Strategies for Long-Term Success, with Dr. Michael Fossel. But if I were to write another, it'd be called The Power of Possible Thinking.
Q: What books are you reading?
I just finished Pitch Anything, by Oren Klaff. It reaffirmed everything I've been doing for the last 20 years yet has provided a methodology behind it to make it "teachable" to others. I highly recommend it.
Scroll down to see the next article