September 16, 2014
Six things for pharma marketers to know: Tuesday, September 16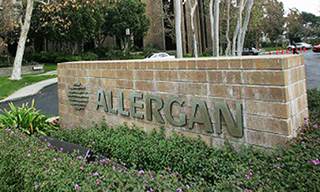 Botox-maker Allergan and Pershing Square Capital Management reached a settlement concerning a special meeting of the drugmaker's shareholders, the WSJ reported. The date for the meeting had already been set for December 18, but the agreement puts aside "legal wrangling" and Allergan's corporate rules, paving the way for the meeting, at which Pershing Square plans to remove the majority of Allergan's board and secure approval for a $53-billion takeover bid with partner Valeant. Pershing Square and Valeant noted yesterday morning that they already had the support of 35.7% of shareholders to call the special meeting—more than the 25% required.
Generic drugmaker Mylan announced Tuesday it would begin Phase-III clinical trials for generic versions of Sanofi's long-acting insulin Lantus and GlaxoSmithKline's COPD and asthma treatment Advair. The company began two head-to-head trials—dubbed INSTRIDE 1 and INSTRIDE 2—to analyze the efficacy and safety of its own insulin glargine pitted against Sanofi's Lantus in both type 1 and type 2 diabetics. The news follows a Bloomberg report yesterday that drugmakers have pursued 76 meetings with the FDA over bringing biosimilar versions of lucrative drugs, like AbbVie's Humira and Sanofi's Lantus, to market.
Lilly and AstraZeneca have announced an alliance to co-develop and commercialize AZD3293, a BACE inhibitor and potential treatment for Alzheimer's disease. The drug was shown in Phase-I trials to reduce levels of beta-amyloid in the spinal fluid of Alzheimer's patients. Beta amyloid is a protein fragment thought to destroy nerve synapses; the substance also clumps into plaques, leading to nerve cell death. Per the deal, Lilly will lead clinical development while AstraZeneca will be responsible for manufacturing, with both companies taking responsibility for commercialization.
FDA advisers are slated to decide tomorrow whether low-T drugs are being prescribing to the correct patients, and whether their labels should reflect research suggesting the drugs precipitate a heightened risk of heart attack and stroke, Bloomberg tells us. FDA added a warning of the general risk of blood clots to the drugs' labels this past June. A study published in JAMA this past July of 24,000 Medicare patients found that the drugs did not increase the risk of heart attack, contrary to several early studies.
Shire announced Monday Vyvanse had received a priority review for a supplemental new drug application in adults with binge eating disorder. FDA is expected to decide on the drug by February 2015. A US District court upheld Shire's patent protecting Vyvanse from a group of generic drugmakers this past June, including Mylan and Novartis' Sandoz unit.
The American Medical Association is calling for a re-shifting of priorities in EMR systems, the WSJ reported Tuesday. The professional medical organization states that EMRs need to be easier to use and elevate the importance of patient care. AMA President-elect Steve J. Stack said, "The current generation of EMRs and the way they are deployed is not supporting the quality of care we need it to." As Meaningful Use requirements continue to spur uptake of EMR systems, many doctors have had difficulty keeping up—saying the systems take up too much time, with some going so far as to hire scribes.
Scroll down to see the next article