November 12, 2012
3 ways an agency pitch is like a blind date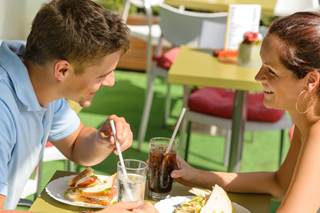 If you are considering a competitive pitch for your brand, here are three qualities to look for that will increase your likelihood of having a great date and a possible long-term relationship.
1. Clarity
Be clear about what you are looking for in an agency. Dig deep to determine the specific qualities that you require for a fruitful relationship. What is important to you? Previous experience? Relationship history? Size? A way with words? Creativity? A willingness to follow the rules? Or maybe you are seeking a personality or presence that is vital and bold.
When you engage in dialogue with an agency about a pitch, the excitement begins for both parties. The romance starts to bloom, you and the agency send emails back and forth. You talk on the phone. You set a time and a place to meet. You hear each other's voices, read each other's messages, and dream about the date of the pitch.
Before starting a relationship with an agency, though, be sure you have a clear idea of the characteristics you desire. If you are vague about what you want in an agency partner, you may find yourself sitting at a table feigning enthusiasm or interest, subjected to the wrong kind of patter.
2. Expectations
Provide the agency with a concise, well-thought-out brief so the pitch team will be aware of your expectations.
Your brand is you. You live, breathe and sleep with the brand. You know every piece of data, every KOL, all the marketplace information.
You are hoping and envisioning that the agency will think and feel the same way you do. You want the agency to "get it." So, be very clear about what you want the agency to "get."
Why is this important?
Because once the agency receives your brief, the team will begin its pitch process with relentless enthusiasm. Team members will forego sleep, food and family—all for the chance to respond to the demanding goals and challenges you have for your brand.
The team will dive into your brand, develop plans and creative concepts. For weeks on end it will do a bit of daydreaming: imagining the smiles and eye-twinkling you will exchange when you finally meet, hoping for a good match.
If you have not provided the agency with clear direction for the pitch meeting, and you find that the pitch team hasn't "gotten it," both parties will feel let down—bummed that no spark has ignited.
3. Communication
Whether the agency proves to be the right match or not, you should always provide feedback.
After the pitch you will no doubt go back to your office and replay the events of the meeting. "Do I like them?" you will ask yourself. "What is my gut telling me? Would my coworkers like them? Would I enjoy a day-to-day, long-term relationship with them? Are we a suitable fit? Does the agency capture the essence of me and my brand? Should I call for a second meeting? Is there someone better out there for me? Do they respect me and my brand?"
And the agency will have similar thoughts. Count on this: the team will be thinking about every exchange that transpired during the meeting—both the words and the body language that ensued. The team will be eager to hear from you. It will want to know if you plan to call, and if so, when.
Once you make a decision, share the news with the agency right away.
If it is good news and you decide on a second meeting, be prepared to discuss next steps, financials and the expectations you have regarding the relationship. If it turns out that the agency is not a good match, prepare an honest response. After all, the team, which has worked so hard to impress you, has the right to know the reason you have chosen to go in a different direction.
In the end, having a wonderful first meeting and the potential for a long-term relationship with the perfect agency comes down to three things: clarity, realistic expectations, and communication. The real work—of doing lasting, productive work together—will come later.
Scroll down to see the next article