October 15, 2012
iPad details: What the best reps know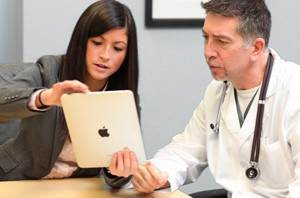 Seth Perlman, a mobile solutions expert, discusses the importance of creating an experience on the iPad that will help make rep detailing more engaging.
Seth has more than 18 years of web development experience, which ranges from design and implementation to technical leadership. Most recently, Seth and his company, The Lathe, have focused their attention on mHealth and on providing mobile technology to patients, caregivers, and healthcare professionals.
Remember the Choose Your Own Adventure series of children's books?
They represented a complete departure from the cover-to-cover, turning of pages that people ordinarily use when reading books. They also proved to be an ingenious way in which to customize a reader's experience in that time before clicks and links made such choices commonplace. This same approach has great potential for iPad detailing, especially for reps who are working with multiple audience segments whose interests may vary.
Non-linear detailing, however, involves more than jumping from topic to topic when responding to a customer's questions. For example, if a physician were to ask about the safety of a drug, the rep would certainly be able to find support in a printed sales aid. With printed material, though, a rep might find it harder to make it seem as if safety were the next topic that he or she had planned to address all along.
To take advantage of such seamless sales transitioning, a rep might consider the following points:
For an example of a non-linear detail that works effectively, think about content in 3D.
In 3D, a rep can move horizontally from topic to topic—e.g., from efficacy to tolerability—but can also move vertically, shifting from superficial information to specific data, focusing on charts, launching video, or manipulating animations as customers raise issues or ask questions.
Each customer that a rep encounters might have more need for detail or less need for it, depending on the customer's specialty. In addition, navigating in 3D allows reps to explore a topic further during their next sales call.
Consider the iPad as having a viewport with a concentrated area that is part of a broader landscape, similar to the viewport that Google Maps provides.
If you look at a suburb such as Horsham, Pa., for example, you might not be able to zero in on Philadelphia, but the roads, railroads, and natural features at the viewport's edges will make you acutely aware that a larger area surrounds the Horsham suburb.
A good non-linear detail presentation takes the same approach. Use brand elements at the periphery to communicate to the viewer that the content visible on screen is part of a large and interconnected system of product benefits and features. Topics should not appear as separate "pages"—the idea here should be to avoid trying to recreate a printed sales aid.
The iPad, in particular, supports a remarkable collection of gestures on its touchscreen: taps; double-taps; tap and hold; 1-, 2-, 3-, and 4-finger swipes in any direction; flings in any direction; and pinches and pulls.
Clever programming can expose even more, such as detecting a finger moving in a clockwise or counterclockwise arc.
Use these gestures to move to any topic instantly, without the overt use of menus or navigation bars or buttons. Whatever you do, avoid pressing the "Next" and "Previous" buttons. Do not treat an iPad demonstration as you would a PowerPoint presentation.
Throughout the detail, the customer should feel as though the presentation is a custom experience designed precisely to address his or her interests. The conversation will assist the rep in choosing the appropriate adventure.
As more "no see" HCPs, hospitals, and clinics limit rep access, increased pressure is on reps to make a lasting impression during personal sales calls. In this evolved role, reps are moving away from delivering "the message." Instead, they need to bring value to physicians by being the conduit to the company.
They are charged with establishing relationships, understanding doctors' needs, and coordinating the delivery of these services. A "Choose Your Own Adventure" positions the rep optimally to do just that.
Scroll down to see the next article