February 29, 2016
How is pharma shifting its marketing budgets?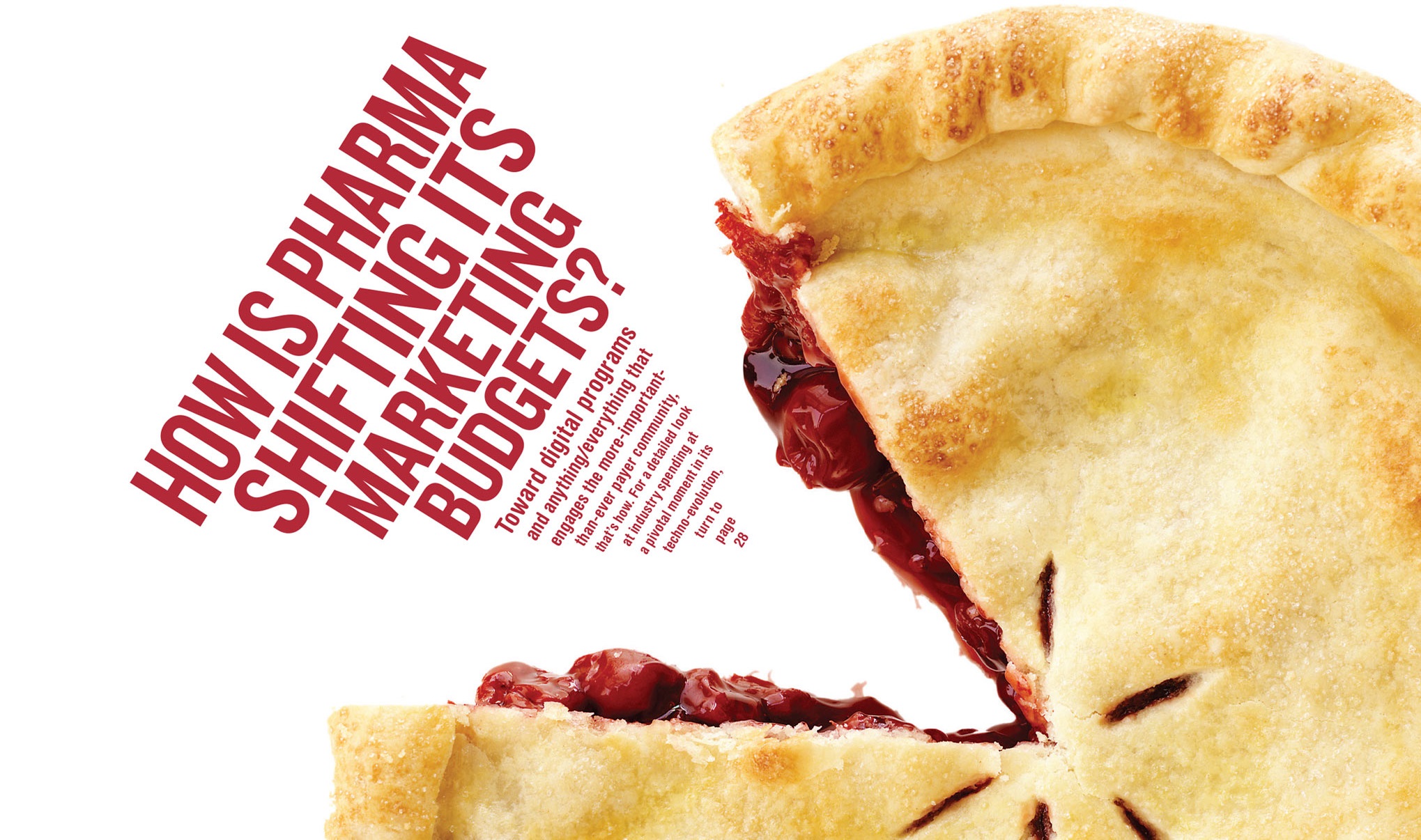 When MM&M debuted its Healthcare Marketers Trend Report, in 2013, it had a single major goal in mind: The aim was to get a better sense of the collective mind-set among higher-up healthcare marketers, especially within the context of sweeping changes that threatened to unsettle established practitioners and newbies alike.
How were they adjusting their strategic and tactical approaches in the wake of the digital revolution? How were they tackling challenges old (the patent cliff, channel bloat) and new (freshly assertive payers, patient centricity, and everything that comes with it)?
The first two iterations of the report revealed a sense of unease among marketers, a sense that the industry's sudden and ongoing transformation could render everything they knew about their business out of date. At the same time, they also suggested a resilience that, frankly, had never sat near the top of any list of the marketing industry's most ­durable characteristics. On the surface, the results were largely ­unremarkable — but if you delved deeper, you found a lot to be encouraged by and, indeed, like. Digital budgets were on the way up; would-be earthshaking events like the rollout of the Affordable Care Act had proved less an earthquake than a mild tremor.
Which brings us to the third edition of the trend report and the first since June 2014. Your super-glib headline? "Industry Rolls With the Changes." Many of the encouraging trends that emerged a few years back have continued and some — notably, and obviously, the increased focus on, and budgets for, digital programming — have surged.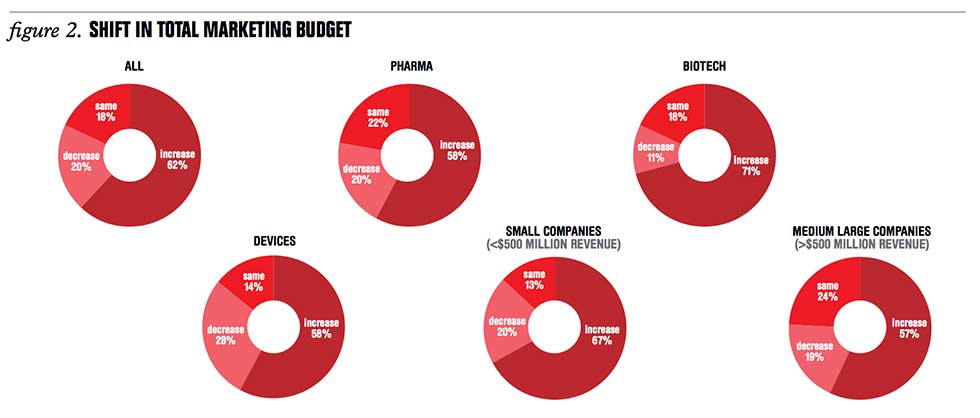 This year's survey, fielded between late November 2015 and early January 2016 by MM&M in association with Guidemark Health, tapped 181 director-level-and-above execs, split among pharma (45% of respondents), biotech (21%), device (28%) and diagnostics (6%) companies (see below). They were asked to weigh in on a broad range of issues — everything from the size of their budgets to their preferences vis-à-vis branded and unbranded programs to the intensity of their challenges and opportunities.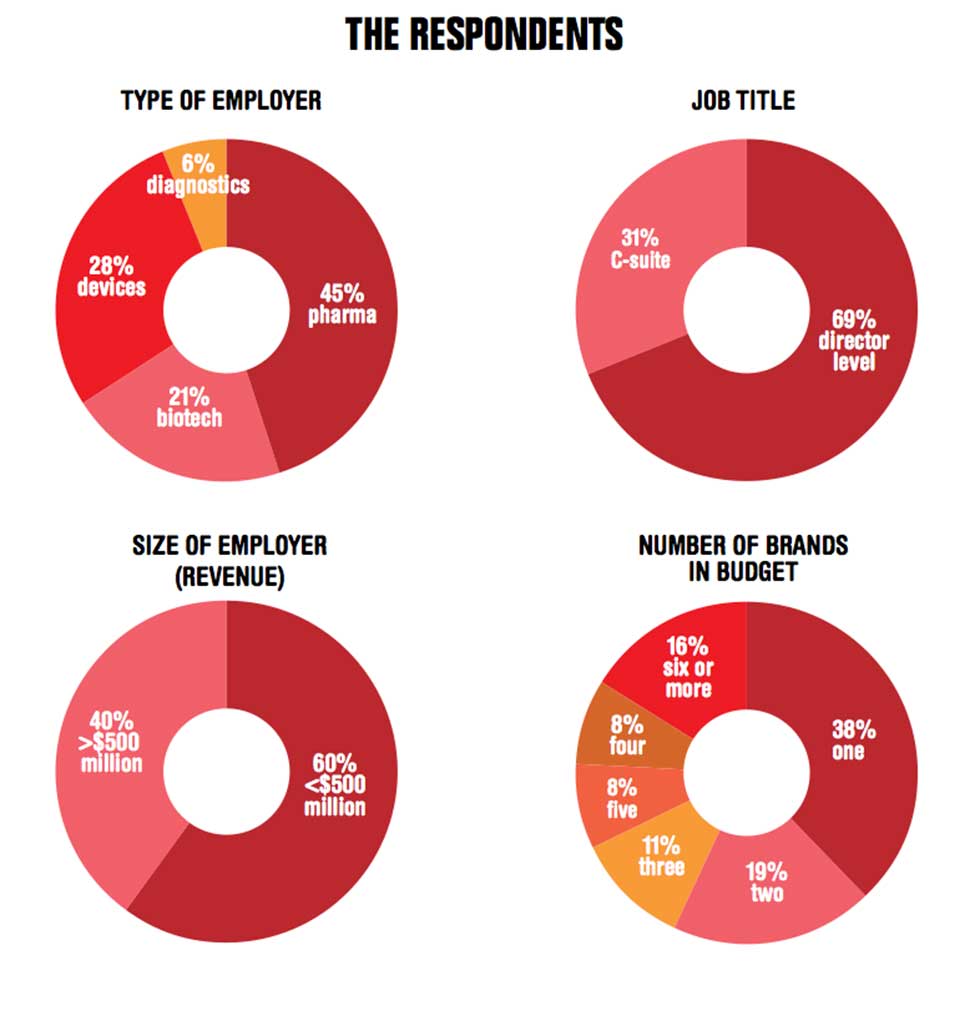 The number of C-suite execs who participated in the survey increased since the last go-round, from 25% of respondents in 2014 to 31% in 2016. Sixty percent of respondents came from companies with more than $500 million in revenue, while 41% said they were "solely responsible" for deployment of their company's marketing budgets. A majority of respondents (38%) noted that their budget covered a single brand, but 16% reported that they handled six brands or more.
In the following pages, we present the results of the 2016 MM&M/Guidemark Health Healthcare Marketers Trend Report, with comments from industry execs to add context.
See also: 2016 Healthcare Marketers Trend Report: Guidemark Health's Matt Brown on the numbers