September 28, 2016
How to get more women in the C-suite, according to IPG, Unilever, and AOL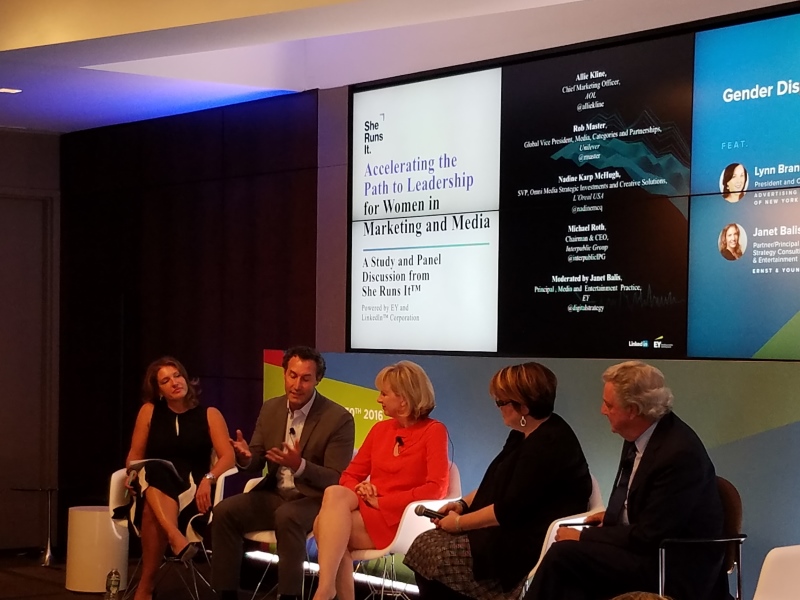 From left to right: Janet Balis, leader of Ernst & Young's strategy/customer consulting practice for the media and entertainment industry, leads a discussion on gender parity with Rob Master, global VP of media, categories, and partnerships at Unilever; Allie Kline, CMO of AOL; Nadine Karp McHugh, L'Oreal's SVP of omnimedia, strategic investments, and creative solutions; and Michael Roth, chairman and CEO of Interpublic.
When Lynn Branigan, president and CEO of She Runs It, formerly called Advertising Women of New York, looks at statistics about the number of women in advertising who make it to the C-suite, the numbers don't add up.
Women comprise only 25% of executive leadership roles in the media and marketing industry even though 41% of the employees in the early stages of their careers are women.
"The numbers are sobering and they're going in the wrong direction," Branigan said Monday at Advertising Week in New York where she unveiled the results of a global survey comparing men and women's career journeys in the media and marketing industry.
The study analyzed the LinkedIn profiles of 3.7 million individuals from 4,000 companies in the media and marketing sector.
It found that women had low representation in leadership roles, with a significant drop-off at the non-executive level, yet performance was not the issue. The lag had to do with personal branding, building connections, and balancing performance with influence.
This issue, while prevalent across the industry, is also one that healthcare and pharmaceutical marketers and agencies are grappling with.
"I think it does take a community of sorts to really drive this issue," said Rob Master, global VP of media, categories, and partnerships at Unilever. "I think it's important to bring the men's perspective in. We play a large role in making it happen."
Here are three key findings and what executives from Interpublic, Unilever, AOL, and L'Oreal have to say about them.