March 01, 2014
People Moves: March 2014
MANUFACTURER
Neurosigma announced the appointment of Gregory F. Brooks as senior vice president and chief commercial officer. Brooks most recently served as VP, global strategic marketing for Allergan and oversaw the company's Botox franchise. During his tenure there, he was responsible for global product line launches including Botox for neurologic, cosmetic, and urologic conditions, as well as both pharmaceuticals and medical devices for ophthalmic and dermatologic conditions.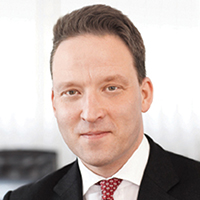 Merck KGaA's chief financial officer, Matthias Zachert (left) has left the company. Zachert will leave to head Germany specialty chemicals company Lanxess AG, where he previously worked.
Novo Nordisk announced the promotion of Eddie Williams to senior vice president of biopharmaceuticals. Williams joined Novo Nordisk in 2006 and currently serves as the corporate vice president of biopharmaceuticals. Williams leads the sales and marketing, business development and new product commercialization functions for the company's growing US. biopharmaceuticals business.
Gilead Sciences has announced several promotions within the company's senior management team. Robin Washington, CFO, has been promoted to the position of executive vice president; Paul Carter, formerly senior vice president, international commercial operations, has been promoted to executive vice president with responsibility for Gilead's worldwide commercial organization; and John McHutchison, MD, formerly senior vice president, liver disease therapeutics, has been promoted to executive vice president and will assume additional responsibility for clinical development programs in the areas of oncology, respiratory diseases and inflammation.
Purdue Pharma announced that the company's Board of Directors has appointed Mark Timney as president and CEO. Prior to joining Purdue, he was president of Merck US, where he managed sales & marketing, managed markets, and payers. Mark Timney succeeds John Stewart, who has retired from Purdue.
Amarin Corporation, a biopharmaceutical company focused on the commercialization and development of therapeutics to improve cardiovascular health, announced today that Aaron Berg has been promoted to senior vice president, marketing and sales.
AGENCY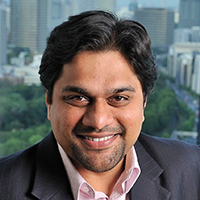 Amar Urhekar (left), a veteran of the Global McCann Health network, has been promoted to the newly created position of president, McCann Health Americas. Urhekar most recently served as McCann Health's executive VP based in Singapore, leading its Asia Pacific network of 14 offices spread across nine countries in the region. He will be taking over leadership of McCann Health's North and South American professional healthcare operations during a period of intensified investment, innovation, integration and growth. He will be based in New York. Urhekar began his career with McCann Health in 2000 when he founded the agency's India office. In 2004, he was named managing director of McCann Health Greater China, and in 2009 assumed the position of president of Japan McCann Health group. In 2010 he was made head of the Asia Pacific region.
Compass Healthcare Marketers announced today that it has hired Lisa Huff-Morales as its new director, finance controller. Huff-Morales will be implementing financial solutions for Compass's client base. Huff-Morales's professional experience includes 12 years at Rosetta Marketing Group, where she worked as staff accountant to the client controller/director of project accounting. The agency also announced the hire of Paul Johnson to the position of EVP president/managing director of client services. Johnson held leadership positions at Pfizer, GlaxoSmithKline, and most recently at Palio-Ignite, where he served as general manager, client services.
CMI/Compas announced two new hires in January. Michael O'Brien and Kyle Reiff joined the CMI/Compas team as associate campaign analysts. In their roles, O'Brien and Reiff will be responsible for providing data, reporting, and completing campaign analyses. They will be based across two of the agency's offices in King of Prussia and Philadelphia, PA.
ICC Lowe has hired Bill Meisle as director of customer engagement. Previously, Meisle was director of enterprise channel marketing at GlaxoSmithKline, responsible for defining long-term vision, strategic planning and delivery of digital marketing initiatives for all US consumer and professional customer groups.
Dudnyk announced the hire of Jahda Hill, PhD as associate scientific director, Chelsea Thompson as senior copy editor, Cindy Gassler as senior art director and Melissa Fisher as studio art director. Hill will work with the account and creative teams, helping to ensure the scientific accuracy of promotional materials while answering all scientific questions. Gassler spent the last 10 years at Creative Strategy Group (CSG) where she advanced from a freelance graphic designer to senior art director. Before coming to Dudnyk, Fisher worked as a graphic designer for the Philadelphia Inquirer Newspapers, LLC, and the Media & Marketing Group/Star Group.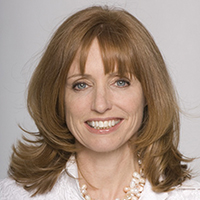 McCann Health has confirmed that New York-based McCann Regan Campbell Ward agency's founder and chairwoman Maureen Regan (keft) will transition from her day-to day responsibilities at McCann RCW and take on a role that entails working closely on business development with McCann RCW and McCann Health CEO, John Cahill. As part of the transition, McCann RCW has promoted Colleen Hindsley to director of client services. Hindsley has been a senior account leader with the agency since 2002. Additionally, Dan Hassan has been promoted to CCO at McCann RCW. Hassan has been the ECD at the agency for the last 10 years.
DMW Direct announced that Sean Clark has been promoted to associate creative director. He previously served as a senior art director for the agency. Clark came to DMW Direct in 2011 with experience in general design and digital advertising. He has since expanded his design skills and added direct mail and DRTV to his areas of expertise. Clark will continue to contribute to creative strategy and tactics for a variety of essential accounts.
AbelsonTaylor has hired Erik Salkin as senior account planner and promoted Caroline Colcomb to senior account executive. Salkin will manage products in the orthopedic, cardiology, dermatology and HIV fields, ensuring the consistency of strategy and messaging throughout the agency's multi-channel marketing campaigns. He will report to Leslie Rabin, director of account planning. Salkin comes to AbelsonTaylor after two years as independent strategy consultant and owner of e-train Enterprises in New York City. Colcomb joined the agency in 2010. She will be responsible for a product for the treatment of epilepsy and will report to Geri Tauber, account director. Before coming to AbelsonTaylor, Colcomb served as an inside sales executive for Marcus Evans in Chicago, a producer of global business conferences and corporate marketing events.
inVentiv Health Clinical has hired Lynn Okamoto, Pharm.D., as executive vice president of the late stage business unit. Okamoto was previously a senior research scientist at Evidera. Prior to that, she led the Intelligent Health Respository at NDC Health.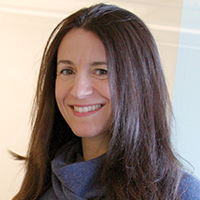 Giant Creative/Strategy has announced the appointment of Geoff Lee to UX director, Jan Vennari to VP, management supervisor; Angela Busa (left) also to VP, management supervisor; Van Eiseman to VP, director of technology; Tonya Joseph-Helwig to director of content strategy and Josh Yoburn to VP, scientific director. Lee previously worked as a UX advocate at Samsung Accelerator and as an enterprise design lead at Skype. Before coming to Giant, Vennari was client services director at Kane & Finkel Healthcare Communications, account group director at Stratagem Healthcare Communications, and held senior roles at other agencies. Busa, in previous roles, has worked on global drug launches for healthcare advertising agencies Euro RSCG, Lowe Healthcare Worldwide, and Ogilvy & Mather. Eiseman was also tech lead for the mobile practice at Digitas, being responsible for guiding the agency's mobile technology offering across the United States. Joseph-Helwig hails from Rosetta, Medical Broadcasting Company and AstraZeneca Pharmaceuticals.
REGULATORY
National Institutes of Health has appointed Hannah Valantine, M.D., to the permanent position of chief officer for scientific workforce diversity. Dr. Valantine comes to the NIH from Stanford University where she served as senior associate dean for diversity and leadership at Stanford School of Medicine, and professor of cardiovascular medicine at Stanford University Medical Center. Dr. Valantine studied biochemistry at London University and attended St. George's Hospital Medical School.
Scroll down to see the next article