March 05, 2014
AbbVie's all-oral HCV combo shines in trial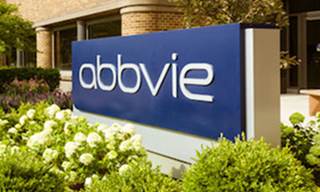 AbbVie may have an edge over Gilead in the race to bring a faster-acting, all-oral hepatitis C cure to market, but it's a slight one. Yesterday the drugmaker presented detailed Phase-III data for its all-oral HCV combo drug in treatment-naive, genotype-1 hep. C patients.
The combination, dubbed "three-D," dosed without ribavirin, boasted an SVR-12 rate (12-week virus-clearing rate) of 99% in the trial, dubbed PEARL III. Three-D includes the HCV protease inhibitor ABT-450/r, the NS5A inhibitor ABT-267, and ABT-333, a non-nucleoside NS5B inhibitor.
Careful observers of the HCV treatment category will recall that Gilead's ION-3 trial of its recently approved Sovaldi, paired with ledipasvir and ribavirin, was associated with SVR-12 rates of 97% with ribavirin, while 94% of those in the same population achieved SVR-12 without ribavirin (drugmakers are intent on eliminating ribavirin, as it brings such side effects as anemia.)
Will the five-percentage-point difference, which the Chicago company announced at the 21st Annual Conference on Retroviruses and Opportunistic Infections, prove to be a significant major competitive advantage for AbbVie? Possibly, especially as payers line up new ways to boost competition among specialty drug suppliers.
Insurers and Medicaid are already asking for state assistance over Solvadi's $84,000 price tag—as reported today by Reuters. If AbbVie chooses a competitive price for its regimen (read: lower than Gilead's), it could present formularies with a sensible alternative.
Although in pharma promotion, timing means a lot, and Gilead is poised to be first-to-market for an all-oral, ribavirin-sparing treatment. The Foster City, CA, biotech filed its regimen with regulators on February 10th, while AbbVie plans to file in the second quarter.
In December, the FDA gave the go-ahead for an all-oral version of Sovaldi in genotype-1 patients, but it requires 24 weeks of treatment with ribavirin and costs $168,000. More anticipated is sofosbuvir + ledipasvir, a one-pill-a-day combo with which 94% of patients with the GT-1 form of the disease achieved SVR-12.

The window for commercializing a cure for the infectious disease is a limited one. Rates of those infected has begun to fall, a study from the CDC published yesterday points out. In the US, HCV cases fell 16% from 2003 to 2010. These rates, however, do not take prison populations into account—for whom a $1,000 pill is probably out of reach, anyway.
Scroll down to see the next article