February 18, 2014
Actavis buys Forest, bolsters specialty biz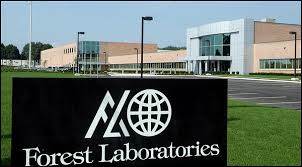 After saying China "is just too risky," and selling off manufacturing plants in the EU, generic giant Actavis took its acquisition strategy state-side today with the purchase of specialty pharma and New York-based Forest Laboratories in a deal valued at $25 billion.
Forest CEO Brent Sanders stated, "The combination of Forest with Actavis creates a specialty company with annual sales of approximately $15 billion," adding, "this compelling combination gives us more optionality to drive future growth."
With Forest under its belt, Actavis estimates that 50% of its revenue will be generated by its specialty brands business. The firm, formerly known as Watson Pharmaceuticals, doubled its specialty brand portfolio last year with the purchase of Warner-Chilcott, which brought a pipeline of more than 25 products in various stages of development.
The pending sale was announced as Forest reported a net sales slide of $1.5 billion—or 33.9%—in 2013. Those losses were largely driven by a 90% year-on-year slump in sales of depression and anxiety treatment Lexapro, which went off patent in 2012.
The firm's newer products have seen stronger results. Excluding the genericization of Lexapro, net sales were up by 19% for 2013 compared to 2012. Dementia treatment Namenda saw a sales hike of 9.4% year-over-year, bringing in over $1.5 billion, and revenue for antihypertensive Bystolic rose 30% to $455 million.
The future of the Namenda franchise is unclear. The drugmaker announced last week that it will discontinue sales of the drug by August in a move that suggests it's trying to switch patients to a new formulation, Namenda XR, in an effort to extend the patent life.
Barclays analyst Douglas Tsao, in a research summary Friday, cast doubt on the drug's future, writing, "We believe Forest will retain most of its patients switched to XR, although we expect generics to capture a significant share of new patient starts. While we believe Forest will extend the franchise and capture important incremental cash flow, we continue to believe this is a decaying asset for the company."
Actavis says it will also harness Forest's sales and marketing force to propel growth in its specialty care arm, stating, "The combined business will be better positioned to leverage the Actavis Specialty Brands portfolio to a broader physician base in the United States, as a result of Forest's pre-eminent position in primary care sales."
Credit Suisse analyst Vamil Divan, however, cautioned that combining the two sales forces may not be so simple. "An acquisition of Forest would imply Actavis's expansion into primary care areas, which is somewhat inconsistent with its stated focus on specialty brands."
That sentiment was echoed by BMO Capital Markets analyst David Maris, who noted, as reported by Reuters, "We acknowledge the deal frenzy and earnings accretion deal environment, but are not convinced that such a deal makes strategic sense."
The combined company will be led by both the Actavis and Forest senior management teams, with Paul Bisaro, chairman and CEO of Actavis, at the helm. Forest will also bring on three members from its board of directors to its new owner.
Scroll down to see the next article