May 30, 2008
Ads blast Merck on AIDS drug prices in Mexico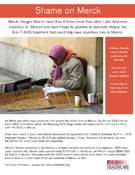 The AIDS Healthcare Foundation launched a print ad aimed at shaming Merck in its own neighborhood for the prices it charges for AIDS drug Stocrin (Sustiva) in Mexico.

The nonprofit, a frequent nemesis of the pharma industry which has previously run ads slamming drug companies for how they price and market their drugs, ran the ad in The Courier News of Somerset County, NJ, near Merck's US corporate headquarters. With the tagline "Shame on Merck," the ad copy reads in part: "Merck's Stocrin (efavirenz) is the backbone of many standard antiretroviral drug regimens. AIDS advocates question why Stocrin costs approximately $140 USD in Honduras, yet Merck charges $893 USD for Stocrin in Mexico. Advocates and HIV/AIDS patients insist Merck must match its lowest available price of Stocrin in other Latin American countries in Mexico as well."

The ads, timed to coincide with the 2008 International AIDS conference in Mexico, will also appear in The Hunterdon County Democrat, The Village Voice and The Washington Blade.

Scroll down to see the next article