January 21, 2009
Advil ads take all-in-one approach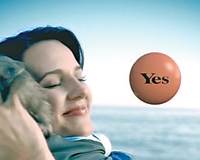 Advil ads take all-in-one approach

Wyeth Consumer Health has launched a TV and print ad campaign for Advil advising consumers that they can do more with fewer bottles of OTC pain meds clogging up their purses, thanks to "The Every Pain Reliever."

The tagline for the ads, by Grey Group, is "Yes, Advil." One opens on a young woman tossing a squealing child in the air. "One more time, mommy," says the child, and mommy, recalling taking different medicines for backache, headache and joint pains, dubs Advil "my every pain reliever."

The two 30-second and 15-second TV spots are running nationally on broadcast and cable outlets including ABC, CBS, Fox, USA, TBS, TNT, Lifetime and HGTV against such programs as

Survior, How I Met Your Mother, Dancing With the Stars, Good Morning America

and

The Today Show

. Print ads are appearing in mags including

Better Homes and Gardens, Good Housekeeping, Redbook, Cooking Light

and

National Geographic

.

"Consumers can trust that they'll find the relief they need for multiple pains when they choose Advil, allowing them to pursue the activities they are really passionate about without worry," said Wyeth Consumer Healthcare VP analgesics marketing Christopher Rich in a statement.