August 28, 2009
Allergan taps Twilight star for acne interactive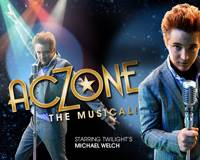 Allergan is tweaking two teen cultural sensations with a High School Musical-themed interactive campaign for its acne medication Aczone, starring Michael Welch of Twilight fame.

Welch plays Mike Newton, the baby-faced would-be human love interest of the heroine in the vampiric teen romance series, the second film installment of which, New Moon, opens in October. He serves as the narrator of Aczone the Musical (www.aczonethemusical.com) and will feature in a sweepstakes to be run through the site in September. The winner of the back-to-school promotion will attend a red carpet event related to the screening of New Moon with Welch.

The campaign, by agency Indelible, uses musical online video vignettes to illustrate the agonies of adolescence and acne. Visitors can also find a dermatologist or get a free sample voucher, and there's an area for parents as well as interactive features allowing teens to "send a love note," download songs, play games or tell their friends about the site.

Aimed at 14-20 year olds, Aczone the Musical pays winking homage to High School Musical, a Disney phenomenon, launched in 2006, that its audience is presumed to have outgrown somewhat. Welch helps break through the clutter, said an agency spokesperson, and brings just the irreverent, Dennis Leary-esque tone to the effort that the shop was looking for.

Allergan and Indelible promoted the site with banner ads running on Facebook, Yahoo and entertainment networks and reached out to top teen and entertainment-oriented bloggers. The effort will run through the fall.

Launched last November, Aczone was the first prescription acne medication approved in 10 years.


Scroll down to see the next article