July 01, 2014
Allergan updates pipeline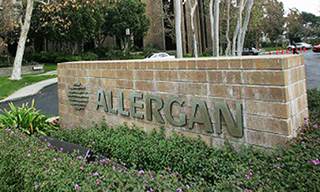 Still working to fend off a Valeant takeover, California drugmaker Allergan delivered an R&D update yesterday which stock watchers considered a call to stay independent. The news was a mix of the good and the disappointing.
The good: the FDA approved an expanded indication for Ozurdex which can now be used among diabetic macular edema patients who have an artificial lens implant or are scheduled to have cataract surgery. Previous indications included macular edema following branch retinal vein occlusion or central retinal vein occlusion and the treatment of inflammation of the uvea. Jefferies analyst David Steinberg wrote in a Tuesday research note that the new indication opens up a potential audience of 560,000 US patients. He also notes that Allergan anticipates "unencumbered Medicare coverage and coverage of over 80% of commercial lives" and that the "FDA approved label will allow for effective marketing, especially given the high prevalence (nearly 2/3) of diabetic patients who also have cataracts."
Allergan also made headway with its possible Lucentis competitor, telling investors its experimental wet age-related macular degeneration treatment abicipar pegol is moving into Phase-III testing. The company said patients gained more letters (a measurement of visual acuity) on abicipar pegol than they did Lucentis, with the added advantage of fewer injections. Steinberg notes that the drug is also associated with inflammation which was not found in the Lucentis group. Allergan says Phase-III tests will use a different manufacturing process which it expects will mitigate the problem. Steinberg says Allergan argues that convenience—fewer shots—could mean better patient adherence which could override any inflammation concerns even if the problem were to surface in the later trials.
Experimental glaucoma medication bimatoprost sustained release implant Phase-II trials also showed promise, and this therapy will also move to Phase-III tests. Steinberg calls this a potential key product for the Botox manufacturer and is one his group has "always thought held significant promise ever since it was introduced." He notes Allergan calls the pipeline treatment a game-changer, and said data indicates the implant is the equivalent of a daily topical application. Steinberg says elderly patients struggle with applying the eye medication and that Allergan is touting effectiveness and an economic benefit "despite the presence of generics." He says Allergan puts the implant's potential at around $1 billion of the $6.8 billion glaucoma market.
The disappointing news: Allergan still can't meet FDA requirements for its now thrice-rejected inhaled migraine medication Levadex which has since been rebranded Semprana. The latest Complete Response Letter is over manufacturing issues, as it has been in the past. Allergan attributed the CRL to the "canister filling process" and "standards of device actuation." Steinberg said the failure was a surprise for his firm and will delay approval until at least the second quarter of 2015. The delay has not dampened enthusiasm for the product—Steinberg's group estimates it could have around $400 million in peak sales.
Allergan has been fighting to keep stockholders behind its efforts to stay independent of Valeant, which made an unsolicited takeover bid. Allergan has said Valeant ownership would most likely mean pared-down R&D budgets, advertising cutbacks and higher prices for Allergan goods. The company also said in a May 27 investor presentation that Valeant lacks experience with global products.
Reuters reported June 25 that investor group Paulson & Co. backs Valeant's proposed takeover and has scooped up 6 million shares of Allergan, making it one of the company's top 10 to 15 stockholders.
Scroll down to see the next article