April 27, 2010
AstraZeneca settles Seroquel off-label suit for $520m, CIA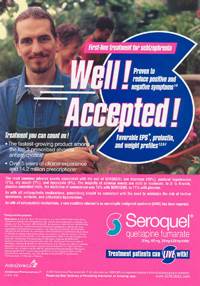 AstraZeneca agreed to pay $520 million and enter a five-year Corporate Integrity Agreement (CIA) to settle a federal case against the company for off-label marketing of Seroquel, the Departments of Justice and Health and Human Services' Healthcare Enforcement Action Team announced.

The CIA compels AstraZeneca's board of directors and "certain managers" to annually review and certify the company's compliance program. The company must send out a "Dear doctor" letter notifying physicians of the settlement and post on its website information about payments to doctors, including honoraria, travel and lodging. Companies found to be in violation of a CIA can have their products barred from compensation under federal programs like Medicare and Medicaid.

AstraZeneca was accused of defrauding federal programs by promoting Seroquel, approved for short-term treatment of schizophrenia, acute episodes of bipolar mania, and later bipolar depression, to psychiatrists and other physicians for unapproved uses including treatment of aggression, Alzheimer's disease, anger management, anxiety, ADHD, bipolar maintenance, dementia, depression, mood disorder, PTSD and sleeplessness.

AstraZeneca targeted physicians who do not often treat schizophrenia and bipolar disorder, the suit said, and "improperly and unduly influenced the content of, and speakers, in company-sponsored continuing medical education programs." The government said the company also hired doctors to give promotional speaker programs and conduct studies on unapproved uses of the drug and "recruited doctors to serve as authors of articles that were ghostwritten by medical literature companies and about studies the doctors in question did not conduct," using those studies in promotional messaging about unapproved uses.

AstraZeneca is also alleged to have violated the federal anti-kickback statute by "offering and paying illegal remuneration" to those doctors, and by compensating doctors for resort trips and to give promotional lectures on off-label uses.

"These payments were intended to induce the doctors to prescribe Seroquel for unapproved uses in violation of the federal Anti-Kickback Statute," said a government release.

The action grew out of a Pennsylvania qui tam, or whistleblower, lawsuit. The whistleblower, James Wetta, will get more than $45 million from the $302 million federal share of the settlement (the remaining $218 million goes to state Medicaid programs and the District of Columbia).

US sales of Seroquel rose 13% in 2009 to $3.4 billion.
Scroll down to see the next article