October 24, 2013
Back-to-school sales blitz boosts Vyvanse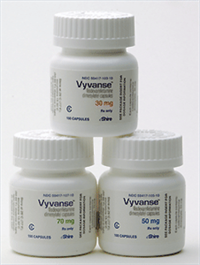 Sales of orphan drug Firazyr and ADHD blockbuster Vyvanse continued to climb, contributing to a 13% increase in specialty drug sales to $1.2 billion in the third quarter, Irish drugmaker Shire said today.
Six of 11 drugs delivered double-digit growth. Firazyr, for the rare disease hereditary angioedema (HAE), more than doubled its revenue vs. Q3 2012, reaching $63 million. Originally approved in the EU, the portable, self-administered product is gaining patients since arriving on US shores, despite facing competition.
"It's now the leading US treatment for acute HAE attacks," said CEO Dr. Flemming Ornskov, who took over for Angus Russell in April, on a conference call today. The firm has increased med-ed efforts behind Firazyr, he said, and new-product starts in the US have been accelerating over the course of this year.
Shire's neuroscience business also delivered. For blockbuster Vyvanse, sales rose 21% to $299 million, benefiting from a mid-year boost in sales force designed to capitalize on the back-to-school season. US scripts were up 7%, and the firm took a price increase as well.
Management said Shire remains committed commercially to Vyvanse as well as to ADHD drug Intuniv (up 17% to $81 million), which goes off patent in 2015. The commercial infrastructure includes 96 reps in the US. It also hired a new head of neuroscience, Perry Sternberg, who has significant global sales and marketing experience.
The company is testing Vyvanse in major depressive disorder and binge eating disorder. Results are expected over the next nine months, Ornskov said.
Lialda (up 36% to $142 milion), Elaprase (up 17% to 129 million) and Vpriv (up 17% to $88 million) were the others posting double-digit sales hikes.
On the downside, Fabry treatment Replagal sales fell 11% year-on-year, and 5% below last quarter, to $109 million, although Shire expects sales to be the same in the second half. The firm decided last year not to pursue the drug in the US.
And diabetic foot ulcer drug Dermagraft's sales were down $10 million year-over-year. This week Shire said it decided to discontinue construction of what would have been a new Dermagraft manufacturing facility in San Diego but would continue to manufacture the drug in its existing facility in La Jolla.
Adderall XR sales were off by $22 million compared to last year, as generics from Teva and Actavis continued to challenge the brand.
Overall higher sales enabled Shire to raise full-year earnings guidance. "We expect similar double-digit growth in the last quarter of this year," said the CEO, and mid-to-high single-digit product sales growth for the full year.
The firm is also in the midst of a reorganization, called "One Shire," designed to drive greater efficiencies. SG&A costs for 2013 are expected to be 1% to 3% lower than 2012, and management said they expect to spend $250 million less in 2014.
Scroll down to see the next article