April 25, 2011
Bayer "virtual walk" benefits hemophilia group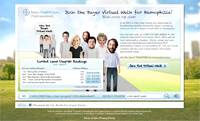 Bayer HealthCare Pharmaceuticals is holding a "virtual walk" for the National Hemophilia Foundation (NHF) and its local chapters. The company will sponsor walkers to the tune of up to $60,000.
A Bayer spokesperson said the campaign complements NHF's real walks, and has garnered over 850 signatures in the ten days since its launch, timed to coincide with World Hemophilia Day on April 17 (the company's Bay Area-based US unit took part in an April 16 5K walk in Berkeley to mark the occasion).
Participants in the virtual walk can create a virtual character at
walkforhemophilia.com
, choose a message and select a local NHF chapter to walk for. The to pthree chapters with the most virtual walkers by November 6 will receive $15,000, $10,000 and $5,000 in sponsorship funds, respectively, while the national office will get up to $30,000. Signatories are prompted to share the event with friends and family via Facebook, Twitter or email.
Paul Bedard, VP/General Manager for hematology at Bayer, said in a statement: "The Virtual Walk for Hemophilia is the latest in a series of innovative programs and services, such as FactorTrack, a mobile application to help track and record infusions for people with bleeding disorders, including those with hemophilia A."
The company's Consumer Care unit has previously sponsored virtual marches for breast cancer research in support of its One a Day women's multivitamin franchise.
Scroll down to see the next article