July 02, 2009
Declining ad rates close two CMPMedica titles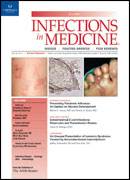 CMPMedica ceased to publish two of its titles – Infections in Medicine and AIDS Reader – due to a continuing decline in print advertising sales.

Early last week, the company announced "company-wide" layoffs that "touched every department," according to Amy Erdman, CMPMedica's director of marketing, research and circulation. Erdman declined to put a number on the layoffs. An article in Folio put the number of layoffs at "nearly 30," citing a source familiar with the cuts.

Despite the absence of print issues, both titles will continue to "maintain a digital presence," said Erdman, adding that other areas of the business, including digital advertising, are seeing positive growth. Erdman said the company does not have any current plans to stop print publication of other CMPMedica titles, which include Psychiatric Times, The Journal of Respiratory Diseases, Physicians Practice, Oncology News International, and others.

CMPMedica is a division of United Business Media, which also owns PR Newswire, TechWeb, and other information trade services and distribution channels.
Scroll down to see the next article