October 21, 2013
Eisai fills out Belviq consumer outreach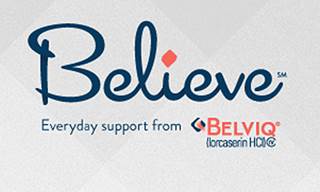 Eisai's accelerated marketing push for Belviq now includes DTC print. The campaign is set to begin surfacing in magazines including Sports Illustrated, People, Redbook, Diabetes Self Management and Cooking Light. Eisai's Belviq brand manager Neema Patel tells MM&M that the ads, which include a tear-out voucher or promo code patients can use towards a prescription, are the latest push in a marketing effort that also includes a 15-day free trial and co-pay assistance.
The print push follows the October announcement that the company will have doubled the sales force behind Arena's weight-loss drug, for which Eisai is handling marketing, by December. The beefed-up sales force will mean 400 reps will be visiting HCPs, armed with vouchers, savings cards, waiting-room brochures and starter kits which include a pamphlet, BMI magnet and voucher. Reps are also using their time to give doctors a preview of the Believe Everyday Support Program that Eisai put together to help patients combine the prescription regimen with food and lifestyle changes that are necessary for weight-loss.
The Believe program is available only to patients who have been given a prescription, and includes a prescription savings card and a free membership to the application LoseIt! The website, which Patel calls a patient portal, also includes a regularly refreshed list of articles from EatingWell that cover food and lifestyle. The resource also includes a tool that runs along the left hand of the home page that lets users find recipes based on dietary needs (i.e., gluten-free, diabetic, low-fat, low-carb, high-fiber). Just below that is a 28-day menu planner which revolves around a selection of daily calorie limits. "Everything is pretty much right up front. You can see it," says Patel, who says the site's look was meant to be clean and inviting.
The LoseIt part of the Believe program helps users track calories and taps into personal networks for social support. It can also add activity information from activity monitors like Fitbit.
"We wanted to come up with something creative . . . we didn't really just want to push information out through e-mail or direct mail. That's pretty standard," Eisai's Patel says. E-mail and direct mail are part of the communications outreach, but not the sole component. She says the thinking behind using EatingWell and LoseIt as opposed to partnering with a commercial diet program was that they wanted to give patients flexibility. The program is also scalable. As an example, Patel says "Maybe they have eating healthy down, but may want [help] being active." The program also includes a call center patients can contact with questions.
The patient program does not store personal information, like weight, which means while it provides guidance, patients still need outside direction to ensure they don't overdo healthy steps, such as cutting out too many calories in pursuit of a low-cal lifestyle.
Patel says reps recently toured the Believe program so they can walk doctors through the type of information a patient will be reading. She says the thinking behind the program was that not all doctors have time to talk to every patient, or nutritionists on staff to do it for them. This could act as a starting point doctors can use in discussions with patients.
The reps walking doctors through the new patient program include the 185 that were on board as of mid-October and the 100 who will join by the end of December. Patel says the reps have not changed their pitch or their materials since the drug's launch, but there are now more of them. The newer reps, part of a contract sales force, also include professionals with backgrounds in the metabolic category, such as diabetes and hypertension, a qualification she says was really important for Eisai.
Lynn Kenney, Eisai's senior US corporate communications director, headed off a query about the timing of the sales force expansion announcement, which was weeks after Credit Suisse analyst Lee Kalowski wrote that the company needed to staff up if the drug were to gain market traction. "The plan was always to watch the market and understand and ultimately add sales force as needed. So this is not necessarily a change or a reaction to anything . . . we'd always taken a slow and responsible approach from the market place," Kenney says.
The prescription medication has had sluggish sales, much like its competitor Vivus, which has also found breaking into the obesity market takes more than a drug that addresses weight loss.
Branding experts have told MM&M in the past that obesity as a treatable disease is a new mindset for both patients and physicians. Creating this understanding and then the willingness for a prescription treatment takes time. Although the American Medical Association declared obesity a disease this summer, Patel says sales reps have not reported an immediate impact. "Some still need education and some physicians don't have conversations about weight," Patel explains. "That's going to take some time."
Scroll down to see the next article