November 13, 2013
FDA approves Imbruvica (ibrutinib) for MCL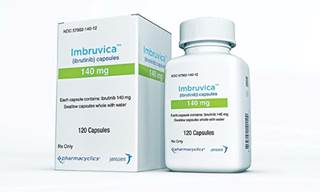 The FDA approved Pharmacyclics/Janssen's mantle cell lymphoma drug Imbruvica Wednesday. This was one of the early drugs to receive the FDA's breakthrough therapy designation to help speed it through the review process.

Roche's Gazyva, approved last week, was the first breakthrough-status drug to get approved. It's indicated for chronic lymphocytic leukemia.
Johnson & Johnson estimates that the breakthrough label has shaved two years off development for ibrutinib, as noted by Reuters earlier this summer.
Imbruvica was also granted breakthrough therapy status for CL/small lymphocytic lymphoma with deletion of the short arm of chromosome 17 and Waldenstrom's macroglobulinemia.
Scroll down to see the next article