September 30, 2013
FDA okays Perjeta for first-line breast cancer treatment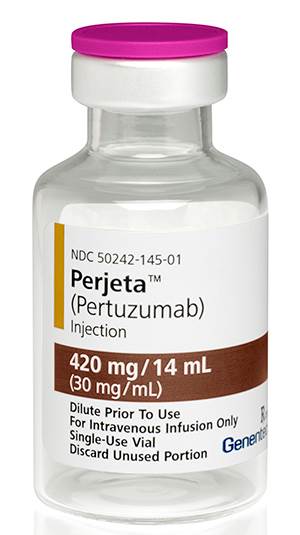 September 2013 closed with Roche making history: on Monday the FDA approved Perjeta (peruzumab), sold by Roche subsidiary Genentech, for early stage breast cancer patients. This is the first FDA-approved drug in a neoadjuvant treatment of breast cancer. The approval comes just over two weeks after an FDA advisory committee reviewed the drug, which was shifted to the Priority Review track in July.
The new indication is for Perjeta plus trastuzumab, or other chemotherapy, before surgery. Perjeta's edge is that it helps shrinks tumors before surgery, making them easier to remove. The FDA recommends first-line Perjeta patients continue with chemotherapy a year after surgery.
Flashing over to Genentech's site shows the company was primed for success, with the home page noting that the drug is indicated for first-line breast cancer treatment. The drug was initially approved in 2012 for advanced or late-stage breast cancer treatment.
The drug maker is not the only company with a pre-write for today's announcement. Jefferies analyst Jeffrey Holford wrote in his September 9 research note – two days before the FDA panel met to vote on the drug – that although he did not anticipate an accelerated approval, such a move would prompt his group to push group sales estimates up 4 percentage points between 2014 and 2017.
Bernstein analyst Tim Anderson's September 2 roundup of company prospects included a note that oncology continues to be the company segment to watch. At the time, he was referring to Phase III cancer drugs, such as PD-L1, MetMAb and GA101 as possible ways to shore up the marketable portfolio and possibly insulate the company from sales-sapping biosimilars, but his overall summary of the company was "it remains a best-in-class R&D organization in oncology."
The company also released Phase III results about its second-line breast cancer drug Kadcyla (ado-trastuzumab emtansine) Friday. The company said in a statement that the drug significantly delayed disease progression, compared to a treatment of the physician's choice. Data from the open-label study also showed Kadcyla patients has a 47% reduction in risk of the worsening of their condition or death, compared with those who did not take Kadcyla. Overall survival data is still being crunched, but Jefferies's Holford wrote in a Monday research note that the data is "a modest positive for Roche as Kadcyla is already approved for second line use and there is likely off-label use beyond the second line."
Scroll down to see the next article