July 02, 2013
Hot-flash med could open up women's health category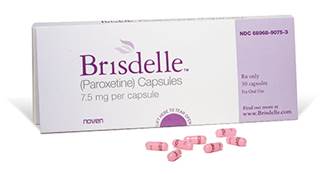 Women seeking relief from hot flashes but wary of hormone replacement therapy got the promise of some relief when the FDA approved Noven Therapeutics' Brisdelle Friday. It is the first non-hormonal menopause medication to get the regulator's OK.
The FDA noted in the announcement that around 75% of menopausal women have hot flashes that can last up to, and even longer than, five years. Brisdelle won't make the discomfort go away, but it is indicated for reducing hot-flash severity.
This may seem like a fine line, but Friday's announcement opens up a therapeutic category shrouded by associated cancer risks. Unlike hormone-replacement therapy, which is generally an estrogen-progestin combination or an estrogen-only treatment, Brisdelle is the selective serotonin reuptake inhibitor (SSRI) paroxetine.
This SSRI is a component of medications that are used to treat conditions such as depression, obsessive compulsive disorder and post traumatic stress disorder, among others. Pair it with hydrochloride and you've got GlaxoSmithKline's Paxil. Tack on mesylate, and it's Noven's Pexeva.
Hormone-replacement therapy, or HRT, is a dicey category. Treatments had early promise of offering protection for the heart and lowering other cancer risks, but studies have found that the treatments can actually increase risks. Women taking HRT can up their risk for breast and ovarian cancer risk by around 50%, according to the American Cancer Society, which also notes that a government study found that estrogen-progestin therapy reduced the risk of colon cancer by around 40%.
The financial fallout of these findings has been mixed. Pfizer's SEC filings indicate the company has paid out around $1.6 billion in legal settlements, or 95% of personal-injury cases related to hormone replacement. Yet annual sales of its HRT franchise, which includes Premarin and Prempro, rose by 4% in 2012, to $1.2 billion, from $1.1 billion, and by 11% in 2011 vs. 2010.
Scroll down to see the next article