October 02, 2013
Intouch creates HCP content division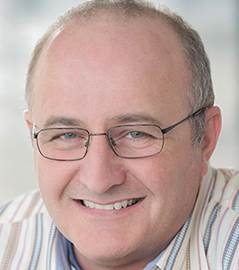 Intouch Solutions experienced a mini split in September, when it declared its HCP-facing business a named entity within the marketer's universe: Intouch Science. The seven-person team is a mix of the recently on-boarded—medical director Jim Haupt—and more veteran Intouch members, headed up by Bunny Ellerin, the firm's director of healthcare professional insights, and SVP Angela Tenuta.
The company is also looking to hire an MD/PhD with what Haupt described as a person "with a creative spark. Someone who can innovate a bit."
The job opening gives a hint at what's driven the agency, whose pharma marketing legacy has long been in platforms and creating consumer content, into officially establishing a business focused on marketing to healthcare providers: their consumer clients kept asking for HCP-facing work. The PhD opening is not a first-of its kind hire for the mini firm, which had just hired someone with a PhD in molecular biology.
Tenuta told MM&M the calls for HCP-focused content started rolling in when the iPad launched. HCP work accounted for around 20% of the business at the time, and Tenuta said the iPad work that Intouch provided drew more attention to the agency's resources. This trend has only continued and has allowed the company to now do more than provide clients with tech solutions for HCPs that offer content from other agencies. The new division makes its service offerings official. "We're creating original strategy and original messaging and concepts...with our attitude," Haupt says.
Intouch expects the HCP-centric business will comprise about 40% of its business by the end of this year, and around 50%-60% by the end of next year.
"Armies of reps are no longer, and doctors are becoming harder and harder to reach...digital is often a channel that rises to the top," EVP Wendy Blackburn said.
Blackburn added that the specialty physician segment tends to make up the bulk of requests for HCP-facing content, but this is for now. Government shutdown or not, healthcare reform has been implemented, and with that has come talk about the rising profile of non-MDs in the healthcare space, such as nurse practitioners and physician assistants.
Haupt said the communications Holy Grail on this front will be to create a suite of communications for a particular product that offers content that addresses the needs of each type of professional who is part of a patient's care continuum. This means understanding the needs, the science, and what qualifies as each audience's eye candy.
"The NPs and PAs are trying to get tasks done and they need tools and support to train patients and have conversations," Tenuta said, highlighting needs like being able to tell patients how to inject themselves or explain co-pay responsibilities, while doctors require a sell that blends high design, high technology and high science. "Glossy, black MOAs that sparkle. Those tend to get attention," she says.
Haupt said that as medicine becomes more personalized, the need for on-target, all-level communications will only increase, and the team's blend of high science and consumer sensibility will allow them to provide new content that reaches and resonates.
Haupt, who earned his PhD in the extracellular matrix involved in tumors, says he's an example of this blended audience understanding. His career started to shift when he was paired up to do work Biomarin, kicking off a trajectory that led to a new relationship with the field. "It's a marriage of a love of science and love of writing and love of being ahead of technology," is how he describes a career progression that benefits from acquired, multi-disciplinary skills and curiosity.
The seven-person team is based in the agency's Chicago office.
Scroll down to see the next article