June 15, 2011
Lilly refreshes patient ed portal, launching YouTube channel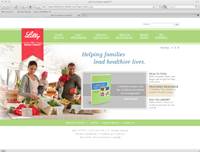 Eli Lilly is refreshing its Lilly for Better Health program with a multichannel platform and a YouTube channel.
The hub of the program is a website,
lillyforbetterhealth.com
, that's been stocked with new interactive content and given a makeover. The site offers one-stop shopping for all the company's unbranded materials.
"This site had been up for five years and it served several of our customers, our advocacy customers, some of the payers and providers and patient groups," said Yolanda Johnson-Moton, strategy consultant for health ed at Lilly US medical. "Looking at it in light of how the technology has evolved, we decided to revamp the entire platform to be more consumer friendly, so that we can do a better job of reaching patients where they'd like to receive info as well as we do healthcare professionals."
In addition to disease state-specific Lilly programs and materials, the site offers general health and fitness guidance and interactive health quizzes, risk assessments and tools -- BMI and carb calculators, for example. There's also an array of downloadable and printable brochures so that patients can access them before they go to the doctor.
The company also plans to launch The Lilly Health Channel, a YouTube channel that will feature "a variety of videos on various topics, including health and wellness, Lilly programs and employee outreach," according to a company release, which said that over the past five years, Lilly has distributed more than a million patient education resources to individuals and organizations.
"Lilly's work to improve patients' health and well-being goes beyond medicine," said Lilly VP US medical, Jack Harris, MD in a statement. "Managing your health and achieving a balanced lifestyle often means making changes to your daily life, and small steps can make a big difference. The resources and tools provided by Lilly for Better Health encourage patients to take those steps."
Scroll down to see the next article