October 23, 2013
Lilly's winning the DPP-4 duel with BMS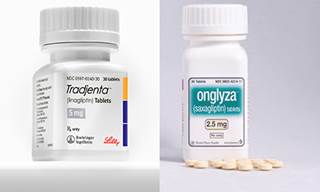 Eli Lilly promised a further easing in commercial outlays as it draws down sales force activity and advertising spend for two blockbusters whose patent expiries are drawing nigh.
Total worldwide revenue increased 6% to $5.8 billion, Lilly said today, slightly above analysts' consensus estimate of $5.7 billion. It was driven by growth for depression med Cymbalta (up 11% to $1.4 billion), insulins, Animal Health (up 11% to $530.3 million), cancer drug Alimta (up 7% to $690.5 million), ED pill Cialis (up 9% to $526.7 million) and Tradjenta for diabetes. Nine-month revenue rose by 4% to $17.3 billion.
As promised during the company's investor day presentation October 3, cost-containment measures also continue. SG&A charges decreased by 6% to to $1.7 billion, driven by a drawdown in selling activities prior to Cymbalta's go-generic date of Dec. 11, and for Evista's LOE coming in 2014.
Gearing up for the loss of Cymbalta exclusivity Dec. 11, "We already lowered sales force activity by 30%," said CFO Derica Rice on a conference call with analysts this morning. "And the removal of DTC ads, as well, will lessen the pressure on SG&A." The company spent $249.6 million on DTC for the depression drug last year, according to Nielsen, down 15.5%.
Barclays analyst Tony Butler, who called the SG&A line "impressive" during the conference call, queried whether the firm could reduce these expenses even further, as Rice had pledged, given the fact that it may be gearing up for two launches, possibly more, next year.
"We're pleased with our performance but…we can always look to improve," said Rice. "You will see our SG&A spend decline even further in 2014."
During the quarter, GLP-1 med dulaglutide and oncology drug ramucirumab were submitted in the US and EU, for use in type 2 diabetes and advanced gastric cancer, respectively. The firm said today that the FDA granted Priority Review status for ramu, and that it expects a decision in the second quarter of 2014.
Lilly is also awaiting an FDA decision on empagliflozin, an SGLT2 inhibitor for diabetes submitted to FDA earlier this year along with co-developer Boehringer Ingelheim.
R&D spend, Rice said, will also decline as many of Lilly's current Phase III studies begin to wrap up. Those include two global Phase III studies of ramucirumab, and one testing necitumumab in patients with stage IV metastatic squamous NSCLC.
A head-to-head trial of dulaglutide vs. Novo Nordisk's Victoza is set to read out in early 2014. The results will be important in terms of enabling Lilly to achieving optimal pricing and access for that drug.
Lilly also expects to report topline Phase III results for edivoxetine (depression) late this year or early next year, and in 2014 for its novel basal insulin.
"And as our pipeline continues to mature, I think we will have an even better operating-expense profile in 2014, even though we'll go through a period of declining revenue," Rice added.
The call also exposed the double-edged sword Lilly faces with regard to pricing power. Price increases drove higher pharma revenues for some Eli Lilly drugs in the US, while lower prices were an offset in other parts of the world.
US pharma revenue increased 11%, driven by price, as volume was essentially flat. But in Australia, Canada and Europe, where the pricing dynamic is not in pharma's favor, revenue grew 5%, driven by volume increases across multiple products. A negative price effect was offset by foreign exchange rates. Overall, worldwide revenue increased 6%, driven by a 5% price impact and a 3% rise in volume.
Sales of Humalog, for instance, rose 7% but were offset by a lower net effective selling price in the US. During the call, executives said this was due in part to the effect of access changes in 2012 and an increased amount reserved for "donut-hole" exposure.
The diabetes pricing environment for older products, Rice said, is largely a function of payer dynamics. Going forward, Lilly said Humalog will benefit from an impact in volume and price from Express Scripts's decision, starting in 2014, to remove Novo's Novolog from preferred position on its highly controlled national formulary, in favor of Lilly's insulin analog.
Another bright spot in Lilly's diabetes franchise is its DPP-4 pill Tradjenta, which it co-markets with BI. There, access has risen and Tradjenta now outpaces BMS/AZ DPP-4 drug Onglyza in new patient volume and share. In addition, 40% of new-to-brand prescriptions from endocrinologists are going to Tradjenta. "We see a lot of momentum there," another Lilly exec said.
Scroll down to see the next article