January 29, 2014
Medivation's Xtandi could eat into Zytiga turf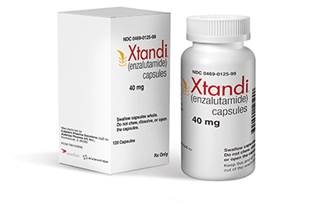 If Credit Suisse's KOLs are correct about prostate cancer drug Xtandi's latest clinical trial news, a change could be afoot for rival prostate drug Zytiga, which is sold by Johnson & Johnson's Janssen subsidiary.
Medivation and Astellas released Phase-III results Tuesday indicating that using Xtandi before chemotherapy let patients put off chemo for an additional 17 months, compared to the placebo group, and that pre-chemo Xtandi bought some progression-free time—at 11.2 months, compared to the placebo group, which saw cancer expand at 2.8 months. Xtandi is currently indicated for use after chemo. Zytiga already has FDA approval for use before or after treatment with chemo.
Phase-III results also indicated that prostate-specific antigen levels fell by at least 50% among 75% of the test group, and overall survival was 29% greater with pre-chemo use compared to placebo. The study notes that this was "despite substantial use of subsequent therapies."
"The data looks to us about as good as it gets across the board," Credit Suisse analyst Lee Kalowski wrote in a Wednesday research note. Kalowski did note one drawback, which is that the pre-treat scenario is tied to 17 months of treatment, whereas J&J's Zytiga's pre-chemo therapy is a 14-month cycle.
In addition to having safety data that "overall looks clean," Kalowski wrote that urology experts tell the analyst firm they "expected to use Xtandi first in all pre-chemo patients," were the FDA to green-light the new indication. These experts also told Credit Suisse that doctors are generally adhering to the pre- and post-chemo limits of each of these medications.
Oncologists are looking at the results a little differently, focusing on the overall survival curve, but they, too, appear to be aligned with the drug's import. "One oncologist noted to us in December that an early separation would indicate to him that Xtandi is the product that should be used earlier in the disease state," Kalowski wrote, indicating the split between overall survival rates for Xtandi and Zytiga.
Medivation and Astellas said in a statement they plan to file for the new indication with the FDA and EU in the first half of this year.
Scroll down to see the next article