October 09, 2009
Merck launches health reference tome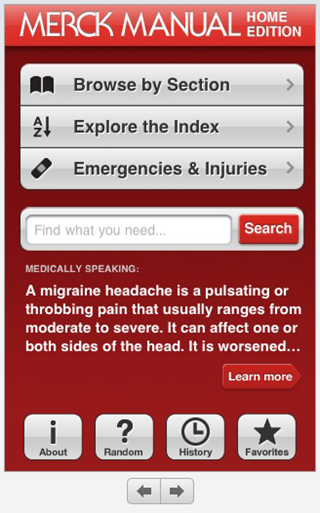 Merck's nonprofit publishing arm launched a 2,500-page health reference book for consumers, available in hardcover or via iPhone app.
The book, titled
The Merck Manual Home Health Handbook
, was launched in response to survey data showing that 64% of consumers named physicians as their most trusted source of health information. The Merck reference book is authored by "300 key worldwide medical experts," according to a statement. The book costs $28.76 at Amazon.com.
The
iPhone app
, developed in collaboration with app-developer Agile Partners and available through the iTunes store for $9.99, offers the same content as the hardback edition. Users of the app can share health topics via email and bookmark favorite subjects, the statement said.
"In addition to the latest health care and medical information, we included a practical 'emergencies and injuries' section that is accessible from the app home screen," said Robert Porter, editor-in-chief of The Merck Manuals, in the statement.
Merck concurrently launched a professional version of the app for doctors and nurses. That version costs $29.99, and features information on symptoms, text searches, and a bookmarking system that records a history of topics viewed by a physician.
Scroll down to see the next article