January 24, 2008
Merck/Schering-Plough launch newspaper ads, take down Vytorin TV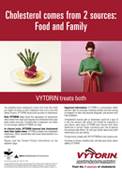 Merck/Schering-Plough launch newspaper ads, take down Vytorin TV

Merck/Schering-Plough launched patient education ads for Vytorin and Zetia in newspapers over the weekend while temporarily suspending broadcast advertising for the brands.

The patient education campaign, running in local and national papers, including The New York Times, USA Today and The Wall Street Journal, seeks to reassure jumpy patients by reaffirming the drugs' effectiveness at fighting cholesterol and urging them to follow their doctor's advice on medication.

Broadcast ads will be back, said the joint venture, and print consumer and professional continues to run.

Rep. John Dingell (D-MI), whose Committee on Energy and Commerce is conducting an investigation of the marketing of the drugs, today hailed the withdrawal of the TV ads, saying in a statement: "I am pleased that our investigation prompted these companies to pull advertising for Vytorin. However, our investigation is far from over and stopping this advertising by no means excuses these companies' behavior."

Merck/Schering-Plough said their decision to suspend broadcast ads was entirely voluntary and not prompted by government pressure.

DDB is consumer agency of record for the brands, while Surge Healthcare handles professional. Merck/Schering-Plough declined to say what agencies were handling creative and media duties for the patient education effort.

The companies rebutted inferences from Congress and in the press that advertising for the brands misrepresented their efficacy. "The claims made are for exactly what FDA approved them for," said Lee Davies, director of global product communications and advocacy relations for cardiovascular at Schering-Plough – in the case of Vytorin, for reduction of total and LDL cholesterol, and for Zetia, use with statin when statin reduction of total and LDL cholesterol is not adequate or as a monotherapy when statin use is inappropriate or contraindicated. In fact, noted Davies, ads for Zetia included, at the request of DDMAC, superscript advising that the drug had not been proven to prevent heart disease or heart attacks.

The ads, including the "Two sources of cholesterol" campaign, made no claims about reducing or slowing the progression of arterial plaques, which was the focus of the Enhance trial.

The complexity of the science has contributed to oftentimes confusing coverage of the study, which actually reaffirmed the drugs' primary claims, regarding LDL-lowering effectiveness, but showed them to be no better than Zocor alone in checking the progress of atherosclerosis among a small group of high-risk patients with a genetic predisposition to very high cholesterol.

Topline data from the study were released Jan. 14, following a suspiciously long delay and an ultimately aborted attempt at changing the primary endpoint of the study. While the scientific and analyst communities reacted coolly to the findings, Merck/Schering-Plough's foot-dragging fed a media frenzy and attracted the attention of would-be congressional watchdogs, who are also looking into recent stock sales by Schering-Plough EVP and president, global pharmaceuticals Carrie Cox.
 
Verispan estimated that total US prescriptions of Vytorin fell 9.5% for the week ended Jan. 18, according to a Wall Street Journal report, while Zetia prescriptions were off 12% for the same week.
Full results from the study should be forthcoming in a couple months, the companies say. They have submitted an abstract to the American College of Cardiology and hope to present the results at that group's annual convention in Chicago, March 29-April 2.