April 29, 2013
Millennium looks to iPad amidst growing competition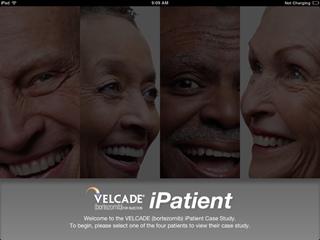 Since its introduction in 2003, Velcade has remained the market leader in treatments for the deadly blood cancer myeloma. Now, a decade and two competitor launches later, Velcade is no longer lonely at the top. To keep Velcade fresh, Takeda Millennium has rolled out a new "iPatient" sales aid for the field.
"We saw two competitors, Kyprolis and Pomalyst, roll out in the past year," says Philip Prince, senior product manager, Velcade marketing at Millennium Takeda. "It's a hot market, and while Velcade is a market leader, it's also been out considerably longer. We really wanted to invigorate the brand with a new and dynamic tactical engagement."
The app is a continuation of a professional print campaign which rolled out last summer with the tagline "Survival never gets old." iPatient offers four patient case studies as discussion points and other information to clarify who should be prescribed Velcade.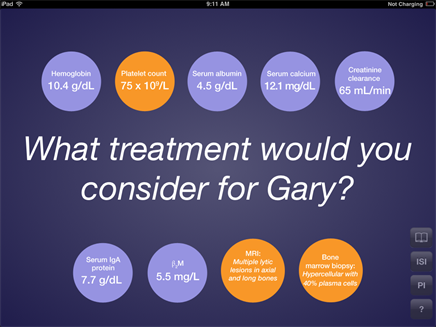 It's the second iPad app introduced by Takeda Millennium, but it's their first that "takes physicians through the patient journey with provocative case studies," Prince said.
The iPatient app uses vertical scrolling to allow reps to smoothly transition between discussions as well as a demo mode—which can be used at conventions.
Prince says they decided to use case studies because "myeloma looks different for each patient, and the app allows reps to have a fruitful discussion on how Velcade is appropriate for a broad range of patients."
"Velcade has always been seen as a powerful treatment for multiple myeloma based on efficacy," he explains," but the IV route was perceived to have an 'edge' due to side effects."
While the drug boasts strong efficacy, Velcade, as an IV treatment, also comes with debilitating side effects like peripheral neuropathy. Velcade was approved by FDA for subcutaneous administration in January 2012.
A study, which appeared in Lancet Oncology in May 2011, found that "subcutaneous bortezomib [Velcade] offers non-inferior efficacy to standard intravenous administration, with an improved safety profile," and that peripheral neuropathy was "significantly less common with subcutaneous than with intravenous administration."
"With the launch of the subcutaneous route, we found through market research that physicians were developing a stronger emotional connection with Velcade based on a new 'softer' perception—thanks to the different side effect profile," says Prince, "this change in perception allowed us to introduce a patient-focused campaign, and we wanted to pull that through for the field."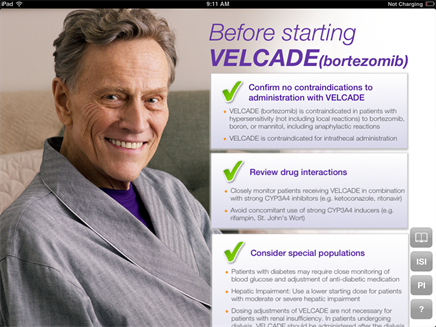 So far, the move appears to have paid off: "We've received a lot of positive feedback from the field. With the launch of the iPatient App to our sales force at a recent congress, we more than doubled our targeted discussion length with physicians," said Prince.
With more face time with docs, iPatient allows reps to discuss why physicians should stick to Velcade rather than move to newer offerings like Kyprolis and Pomalyst. "We considered specific features of myeloma that might have physicians considering another treatment option—and we wanted to foster a discussion around that in the field." Prince notes, "[But] all case studies are consistent with labeled indication and patients we saw in clinical trials."
Millennium worked with Toronto-based digital agency Klick Health on the project. Klick also helped them develop an unbranded website earlier this year at mymultiplemyeloma.com.
Scroll down to see the next article