June 30, 2010
NASCAR driver Jeff Gordon to lead Sanofi whooping cough awareness campaign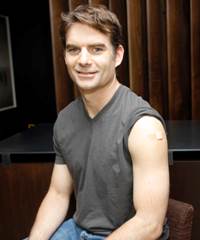 In an effort to throttle up awareness of whooping cough, or pertussis, Sanofi Pasteur and the March of Dimes enlisted NASCAR driver Jeff Gordon to lead their ongoing Sounds of Pertussis campaign. Jennifer Lopez was previously the celebrity face of the campaign.
PSAs starring Gordon will launch on national television and radio outlets in August, according to Lori Lukus, a Sanofi Pasteur spokesperson, and will encourage parents to protect themselves (and their children) by getting a pertussis booster shot. Print, online and patient education materials are also being used, according to a statement. Agencies working on the campaign include Burson-Marsteller, Victory Management Group, Kaplan Thaler Group, Publicis Modem and Optimedia, according to Lukus.
Other campaign elements include a website (SoundsofPertussis.com) and Facebook page. By texting "SOUNDS" to 292929 on a mobile phone, participants will receive a text message five days later reminding them to get vaccinated. From the campaign website, visitors can check out Jeff Gordon's "favorite road tunes," and download the songs from iTunes for $0.99 to $1.29 each. For every song downloaded (selections run the musical gamut, from U2, Sheryl Crow and Rascal Flatts, to Rihanna, Ke$ha, and Disney movie scores), 5% of the proceeds will go to the March of Dimes for pertussis education, according to the statement.
Additionally, Sanofi Pasteur is donating $0.10 for each of the first 50,000 new people who "like" the Sounds of Pertussis page on Facebook. At press time, nearly 14,000 people "liked" the page.
Sanofi Pasteur markets Adacel, know as a "Tdap" vaccine, an acronym for tetanus, diphtheria, and pertussis. Lukus said all Sounds of Pertussis campaign elements are unbranded, and the March of Dimes "does not endorse specific products or brands," according to the statement.
Pertussis, which can be deadly in young children, is known for the whooping cough sound created by air being drawn through excess mucus in the body. This year through June 5, over 4,000 cases have been reported to the CDC, and some states, including Michigan and Texas, have seen a 50 percent increase in reported cases of the disease. In 2008, 13,000 cases of pertussis were reported nationally, including 18 deaths, according to the CDC.
Scroll down to see the next article