December 30, 2009
Niche health site reports traffic jump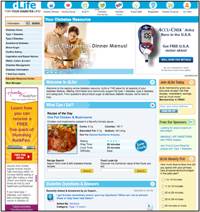 Multimedia diabetes network dLife said total visits to its website crossed the one-million mark for the month of November.

The milestone represents a 35% increase versus Nov. 2008 in visits and page views for the diabetes-focused site, the network said, citing Google Analytics stats.

Commenting on the growth, Greg Zegras, dLife chief operating officer, told MM&M, "It's a culmination of improvements we've been making to the site over the last 12 months as well as a peak in awareness around [the American Diabetes Association's] American Diabetes Month."

Zegras said the network has been investing in online tools, including recipes and a food look-up that shows detailed nutritional analyses—information important to patients and caregivers. In addition, an online community was launched last January enabling users to create profiles, share comments and post photos.

The mix has proved attractive to advertisers in the diabetes vertical. The site's current pharmaceutical brand lineup includes Pfizer's Lyrica, which is approved for treating diabetic nerve pain, as well as Novo Nordisk's insulin line, Lantus (Sanofi-Aventis), Glucagon and Humalog KwikPen (Eli Lilly), Byetta (Amylin/Lilly), Avandia (GlaxoSmithKline) and Actos (Takeda).

DLife, whose media outlets also include the dLifeTV program, said the following companies have recently aired ads against the TV show: Merck for Januvia, Sanofi-Aventis for Lantus and Roche for its AccuCheck glucose meter. The dLifeTV program appears Sunday evenings on CNBC.

Scroll down to see the next article