March 27, 2013
Perlmutter's past bodes well for Merck's future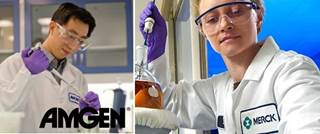 During Roger Perlmutter's days as R&D chief at Amgen, Wall Street would often bemoan his "science projects" as grandiose, more risk than reward. But his aggressive strategy appears to have paid off—he took a two-trick pony (Epogen and Neupogen), expanded it into a more diversified portfolio, transforming the company into a top biotech in the process. As he transitions to his new role, his past success at Amgen could signal the coming of a more modern Merck.
In Permutter's 11 years at Amgen, sales grew threefold from $5 to $15 billion and the R&D budget quadrupled along with it—to $3.17 billion. Those numbers shine a favorable light on Perlmutter's tenure, but that's not to say his time wasn't fraught with its fair share of challenges and disappointments.
"I don't know if it gets any worse," were the words Cowen & Co. analyst Eric Schmidt used to describe the Aranesp and Epogen debacle, in which Amgen lost about $29 billion in market value in 2008 due to the organization aggressively pursuing new indications for their anemia drugs.
Vectibix, the colorectal cancer drug, also came up short when they tried to push the indication into head and neck cancers. The drug failed to improve survival in a way that was statistically significant in trials. During an exit interview with Xconomy, Perlmutter said: "Vectibix is a good drug for a small number of people, and is not nearly as effective as it should have been. It was a disappointment to me."
In hindsight, these disappointments seem like a small price to play for an R&D organization that has churned out some widely successful therapies. Denosumab is one of them, and is becoming a blockbuster in two different formulations: Xgeva and Prolia. Other treatments, like Sensipar and Nplate, while not as high profile, continue to generate strong revenue. "[Sensipar] was our first small molecule," said Perlmutter. "We built up expertise to do large-scale clinical trials, and that drug is selling nearly $1 billion a year. [Nplate] is not a giant seller in billions of dollars, but has had impact in patients with autoimmune platelet destruction. It continues to grow dramatically."
And his picks continue to show promise. Topline data released last week showed that BioVex, a 2011 acquisition, was able to use a genetically modified version of the herpes simplex virus to shrink melanoma tumors. This is just one of seven major programs that Amgen has in late-stage clinical trials.
In that Xconomy interview, Perlmutter outlined his R&D philosophy in four points. The first: focus on grievous illnesses, or as he put it: "We want to treat people who are very sick and make them somewhat better. We'd love to cure people, but that is rarely done in this business." Second, "[create] an organization that's comfortable with fitting the tool to the task…It could be a protein, a peptide, an antibody, a small molecule. I don't care what the tool is you use," he quipped. "I want to focus attention on the task."
Third and fourth, bring the lab into two places it was sorely needed—the real-world and to marketers.
"Preclinical models have poor predictive value for disease," he said, "We are trying to treat human beings in this business, and we owe it to people to test in the human setting. You have to build the tools necessary to test it in humans. That is something that is not satisfactorily explored by biopharmaceutical companies."
As for marketers, Perlmutter noted: "I wanted marketing people in our meetings. Not to tell us what to do but so they could understand what we were trying to do, and so we in R&D understood the insights they had from the marketplace. That was what we were trying to do."
Towards the end of his exit interview, Perlmutter was asked what his next gig would be. He didn't allude to Merck at the time, but he did offer this: "I'm no less energetic than I was 11 years ago when I took the Amgen job."
Ken Frazier must be happy that the angry young man with his hair on fire has returned, a bit older and wiser.
Scroll down to see the next article