February 24, 2014
Pfizer Prevnar data could boost Rx numbers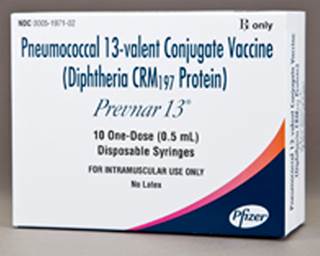 Early news regarding Pfizer's blockbuster pneumonia vaccine Prevnar look as though the drug could push past the almost $4 billion it earned last year. The key is whether or not the data is sufficient to prompt the Centers for Disease Control and Prevention to apply a broad recommendation for its use.
Results from the 85,000 CAPiTA study patient group showed that the vaccine protected adults 65 and older against a first episode of vaccine-type community-acquired pneumonia. It also showed efficacy against a first episode of non-bacterium/non-invasive vaccine-type community acquired pneumonia and a first episode of vaccine-type invasive pneumococcal disease.
The single-shot vaccine is already approved for children under 5 and adults 19 years and older with certain medical conditions, but adults have not really taken to the medication. ISI Group analyst Mark Schoenebaum also noted in his Monday analysis that the vaccine costs twice as much as Merck's single-shot Pneumovax, at $120 a dose.
Schoenebaum writes that edging out the competition would not mean a major windfall, because replacement does not increase overall vaccine use for these scenarios. It also does not guarantee a one-for-one replacement: Bernstein analyst Tim Anderson wrote in his Monday note to investors that Merck is working on a Phase-II, 15-strain version of Pfizer's Prevnar 13, one which has not gotten much press but could be a nascent competitor.
Protection from all pneumococcal strains—a study endpoint mentioned in a January 28 earnings call, was not part of Monday's news. The company expects to release this, and mortality data, at a conference in March.
Pfizer also noted in the January call that it expects to present its findings to the Advisory Committee on Immunization Practices at its June or October meetings. The committee makes vaccine implementation recommendations for the US.
Scroll down to see the next article