April 27, 2011
Pfizer texting campaign plugs vaccinations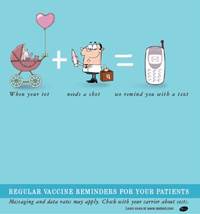 Pfizer is piloting a mobile education campaign promoting awareness of the value of childhood vaccinations through texting.

Dubbed VAXTEXT, the program is debuting in Las Vegas, Phoenix and Miami, where immunization rates are below the national average. Parents in those cities can opt in to receive text messages customized to their child's vaccination needs. They will get texts with information about vaccines and the diseases they help prevent, along with tips and reminders about recommended vaccines and when they're needed. For example: "Vaxtext: It's time for baby's 1-month visit. Your baby may receive a 2nd Hepatitis B shot. Reply HELP for help. Msg&Data rates may apply."

Parents can sign up by visiting vaxtext.com or texting, for example, CARE1 if they live in Las Vegas.

Pfizer has secured the endorsement of immunization advocacy group Every Child By Two for the program.
Scroll down to see the next article