November 21, 2013
Pfizer's palbociclib has fans, but will share the field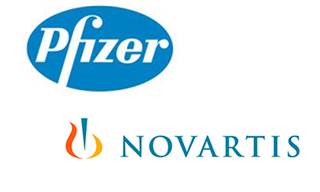 Pfizer's palbociclib has fans, but will share the field

Pfizer's experimental CDK-4/6 inhibitor palbociclib has a lot riding on it. ISI Group analyst Mark Schoenebaum has previously noted that it is the molecule on which one of the two theoretical free-standing innovative Pfizer companies depends, and Sanford Bernstein analyst Tim Anderson writes in his Thursday research note that Phase II and Phase III trials have made it one of the company's "most closely watched late-stage pipeline products."

Leerink Swann analyst Seamus Fernandez projected in April that palbociclib could rake in $3 billion with only a first-line metastatic cancer indication. Anderson expects $1.9 billion in sales by 2020. Pfizer said Thursday that it teamed up with GlaxoSmithKline in a palbociclib-trametinib pairing for melanoma.

Yet, Anderson is intrigued by what's not being talked about: Novartis is silently stalking Pfizer's potential first-in-class, small-molecule CDK-4/6 inhibitor with its own candidate, the Phase III LEE011. Like Pfizer, Novartis is testing the drug in breast cancer against letrozole. Anderson said the company looks to be in Phase I/II tests in lymphoma and pediatric tumors.

A win could wipe away the sting from Novartis's recent layoffs and provide some cover as competitors start to challenge Gilenya (MS) and Lucentis (wet AMD).

Anderson also noted that Eli Lilly could also keep palbociclib from taking over the market. He puts Lilly's LY2835219 in third place among the possible contenders, but notes that the Indiana drugmaker is claiming its entrant in the race is a "cleaner version" of Pfizer's CDK-4/6 inhibitor.

Anderson wrote that he hasn't crunched numbers for expected Lilly or Novartis sales if their drug candidates were to make it to market.