June 10, 2009
PhRMA campaign touts Part D positives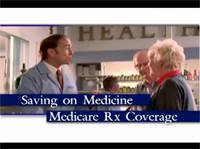 PhRMA launched a national TV ad campaign aimed in part at dissuading congressional Democrats from tampering with the Medicare Part D prescription drug benefit to allow the government to negotiate drug prices.
The ad celebrates the successes of Medicare Part D, and asks viewers to call 202-224-3121 and "tell Congress we need quality affordable healthcare coverage for every American."
"All across America, over 26 million seniors have signed up for Medicare drug coverage, choosing a private plan that fits their needs, and saving an average of $1,200.00 a year on their prescription medicine," says the ad's narrator. "And with competition holding down costs, taxpayers are saving billions. The Medicare benefit is working, and seniors are happy."
According to a PhRMA release, the campaign touts "the importance and success of free-market initiatives such as [Medicare Part D]." The "free-market" elements of Medicare Part D – in particular, a policy provision barring Medicare from negotiating drug prices with manufacturers – have been challenged anew by congressional Democrats.
Two bills introduced in Congress last January, one in the House (
H.R.684
) and one in Senate (
S.330
), by Rep. Robert Berry (D-AR) and Sen. Richard Durbin (D-IL), respectively, would empower government officials to "negotiate with pharmaceutical manufactures with respect to the purchase price of covered part D drugs."
Scroll down to see the next article