November 18, 2009
Prevacid OTC switch gets $200 million launch effort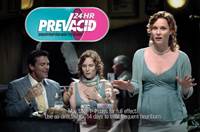 Novartis Consumer Health launched OTC Prevacid with a $200 million marketing campaign featuring the tagline: "When you've had it with heartburn."
Prevacid 24HR, as the OTC version is known, still bears the pink and teal colors of its prescription predecessor. Ads focusing on sufferers' "moment of decision"—in the spot pictured, a first date with Mr. Right marred by heartburn -- are by Deutsch. Tribal DDB is handling digital and social media, including branded (
www.Prevacid24HR.com
) and unbranded (
www.heartburnactionplan.com
) sites, and Ruder Finn is handling PR for the brand.
The drug will compete with Procter & Gamble's OTC Prilosec as well as prescription drugs like AstraZeneca's Nexium and Eisai/PriCara drug AcipHex, among others.
P&G retaliated with its announcement that it is partnering with football great John Madden for the Madden Most Valuable Protectors Award, recognizing top offensive linemen. The award will be presented during the week of Super Bowl XLIV in Miami.
Scroll down to see the next article