October 07, 2013
Rebound seen in HCP meeting turnout: report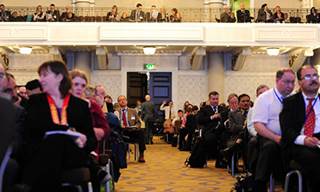 Attendance by healthcare professionals at the top-50 largest medical meetings crept up 0.64% in 2012, said the trade group HCEA, which collects data reported by show organizers. But overall turnout was flat with only 0.4% growth from 2011 to 2012, likely because exhibitors brought less personnel along to meetings.
The data, cited in the Healthcare Convention and Exhibitors Association's 2013 State of the Industry Report, suggest the professional crowds are coming back (see chart).
"When looking at reported professional attendance, the figures reported for 2012 are only .01% less than what they were in 2007, which is a strong sign that medical professional attendance has nearly rebounded to average pre-recession levels," HCEA said in the report (their emphasis).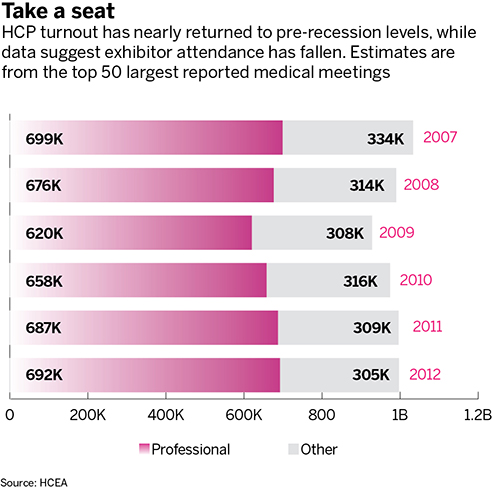 The FIME Show, a medical tradeshow based out of Miami, FL, took the top spot, according to HCEA, with a total reported professional audience of 49,661—a figure which consists of physicians, nurses and other medical professionals—and 54,147 total attendees, when exhibitors, spouses and media are accounted for.
HCEA, which collected meeting data for about 947 events in 2012, 708 of them US events, cautioned that the figures provided are self-reported and, in some cases, un-audited.
As one would expect, the corollary to slightly increased, or flat, attendance, has been slightly increased, or flat, advertising & promotion. Most healthcare companies (69%) told HCEA they expect to exhibit at roughly the same number of events in 2014 as in 2013.
Fourteen percent said they expected an overall decrease in the number of meetings at which they would exhibit. Another 17% expect to exhibit more, although the report does not indicate the extent to which these companies expect to up their exhibiting.
Despite the positive trend in HCP attendance at the biggest confabs, "data illustrates that 'other' attendance, which primarily includes exhibitors, has compressed over the last three years, indicating that exhibitors are bringing less personnel to these events," HCEA observed in the report.
In 2007, reported attendance by healthcare professionals for the top 50 medical meetings was 699,293, HCEA noted. Attendance then fell to 676,375 in 2008 and 620,178 in 2009 before starting a three-year climb in 2010, increasing to 692,121 last year.
After the first-place FIME Show, Radiological Society of North America (RSNA) placed second with a total crowd of 53,778, including 26,154 professionals. However, the number-three show by total attendance, Greater New York Dental Meeting, had more professionals than RSNA—36,480—although fewer attendees overall, 53,481.
Attendance data suggest events on the smaller end of the scale saw larger increases in attendance than their counterparts on the larger end of the scale, HCEA said. Among the top 107 meetings reporting 4,000 or more people, including the top 50 (what HCEA calls its "Large Meetings" category), 2011-2012 professional turnout saw an 11.7% gain, and an 11.5% rise in general attendance.
Also of interest, last year saw a 27% jump in the average number of reported exhibits, yet reported net sq. ft. has seen a four-year decline, up until the marginal increase in net sq. ft. seen last year. Either healthcare companies are bringing a larger number of smaller exhibits to shows, or show organizers are attracting an increase in exhibitors choosing smaller booth spaces, HCEA speculated.
Moreover, exhibit size has trended down since 2007—a year marking the end of what HCEA called an "exhibitor arms race for size"—and has flattened the last two years at about 400 net sq. ft. Most exhibitors, the group said, seem to be keeping costs in check.
Scroll down to see the next article