August 13, 2013
Smirnoff switches over to Weber's health practice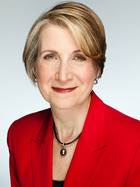 PR firm Weber Shandwick announced Susan Smirnoff will join the agency's health practice as EVP/senior counselor.
Smirnoff joins Weber from another New York-based shop, Ruder Finn, where she had spent 33 years and co-led the agency's US healthcare practice. She also had worked as a senior counselor in the agency's healthcare and corporate communications teams.
The veteran counselor brings deep experience in oncology and neuroscience to her new role. In a statement, Laura Schoen, president of Weber Shandwick's global healthcare practice, hailed Smirnoff's "passion for science" and "commitment to delivering programs that impact patient outcomes."
The hire follows last month's news that the US Department of Health and Human Services (HHS) added $33 million to Weber's contract in an effort to further awareness for state health insurance exchanges, according to a report from PRWeek (sub req'd).
Earlier this year, Weber was also awarded a contract from Covered California—the organization which runs that state's health insurance exchange. The $12-million contract includes creative development, social media and collateral materials through April 2015.
In May, Weber
added a healthcare specialty shop
to its offerings, Element Scientific Communications.
Scroll down to see the next article