April 21, 2014
Sovaldi Rx are being filled, despite payer angst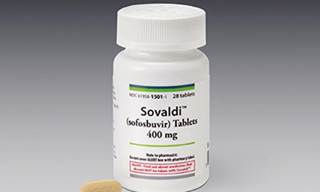 PBM Express Scripts and lawmakers may be angry at the price of Gilead's hepatitis C drug Sovaldi, but a survey by Leerink indicates that this dustup is little more than background noise when it comes to filling prescriptions for the $84,000 drug.
Leerink's pool of 48 polled physicians included hepatologists, gastroenterologists and infectious disease specialists who told the firm that payers have filled more than half of their written Sovaldi prescriptions. Leerink says this comes down to about 57% of prescriptions filled, while the remainder have been denied (around 11%) or are currently in limbo mode.
Although critics have slammed Sovaldi's high cost, Gilead's price-supporting argument has been that the short-term financial impact will save payers and patients money over the long run, because it could mean avoiding costly treatments and maintenance regimens, such as liver transplants and the anti-rejection drug regimens that go along with them.
Physicians indicated that this long-term financial argument only works for prescriptions that synch with the current label: Leerink says payers have not been covering prescriptions that use both Gilead's Sovaldi and Janssen's Olysio, even though the combination is cheaper than the on-label combination of Sovaldi and ribivirin. Leerink says the rejected drug regimen costs around $150,000 for 24 weeks, compared to $168,000.
Leerink's Howard Liang notes in his assessment that sticking with on-label uses provides "an easier justification for rejection," and that while only one doctor said a payer rejected his prescription because a patient was HCV stable and lacked cirrhosis, that severity—or lack thereof—may fuel payer decisions if the drug's price becomes a burden.
The Centers for Disease control pegs the Hepatitis C population at 3.2 million, but doctors told Leerink that the 2012 recommendation that baby boomers get screened for the virus has increased the number of HCV-positive patients flowing into their waiting rooms.
The fight for space in the all-oral treatment category includes potential contenders from Merck, AbbVie and Bristol-Myers Squibb. This may give payers more options, but Leerink's survey showed that physicians focus more on dosing and pill burden than they do on duration of treatment or drug-drug interaction potential.
Scroll down to see the next article